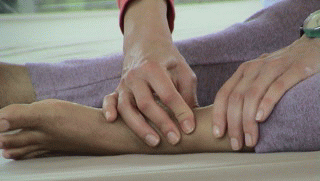 The strong, sensitive hands are those of a European studying Massage
at Baan Hom --the beautiful brown foot that of her Thai teacher!
Traditional Thai Massage or 'Nuad Boran' needs no introduction. If you are interested in Baan Hom Samunphrai and have arrived at this point in our website, you certainly won't need to be persuaded of its value. Instead we have chosen a few images taken very recently of Maw Hom and her assistants at work in Chiang Mai, both at her own School and at 'The Association of Licensed Thai Traditional Healers' where she teaches the growing number of Thai Maw Nuads (Traditional Medicine Therapists) preparing for the new Ministry of Public Health exams. These happy therapists learned to do massage in the family when they were children, but still they have to study hard to get their government licenses.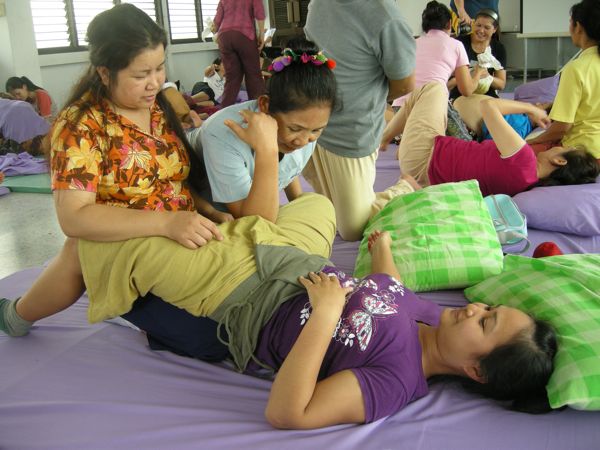 Maw Hom teaching Thai therapists at the Mothers and Children hospital in Chiang Mai. No oil, no special attire, no equipment, no music, not even cotton sheets on the thin mats on this Clinic floor. What's special. on the other hand, is the ease and sense of well-being so obvious in these professional healers preparing for the new Thai Ministry of Public Health exams.
At Baan Hom Samunphrai, Thai Traditional Massage is at its purest and most authentic. We offer three forms: the technically rigorous 'Foot Massage' which takes about an hour, the 'Full Set' which takes about two hours, and the Full Therapeutic Massage which is open-ended and may last anywhere from thirty minutes to two hours or more depending on your needs, your flexibility, and the stage of your injury or problem -- Maw Hom offers diagnostic sessions for those with special health problems. Manipulation of the so-called 'acupressure points' and 'energy lines,' for example, is not part of the ordinary Thai Massage, and many foreigners will not have experienced this kind of massage before.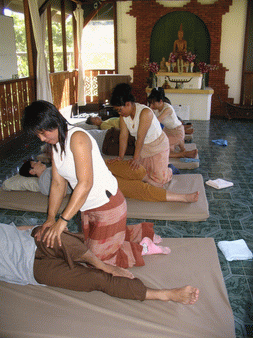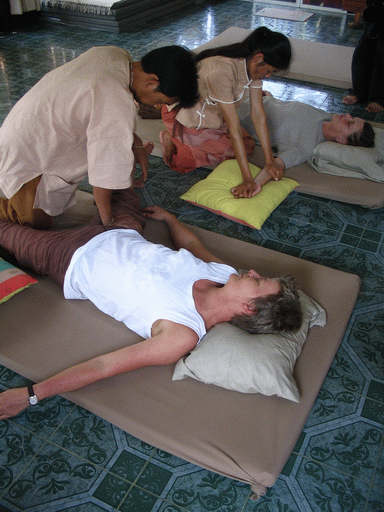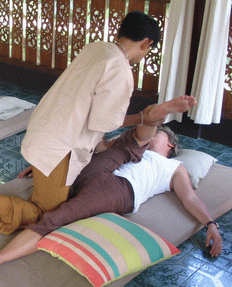 The atmosphere is more serious in our massage sala, needless to say, yet there is still that ease and intimacy that makes Thai massage such a profound experience. Baan Hom Samunphrai is very small, just four therapists all from the same family, and that is very much part of our special quality too. Thai massage has always been a family art practiced by people you know and trust.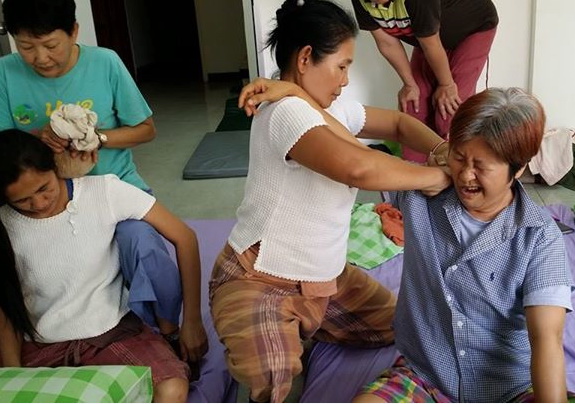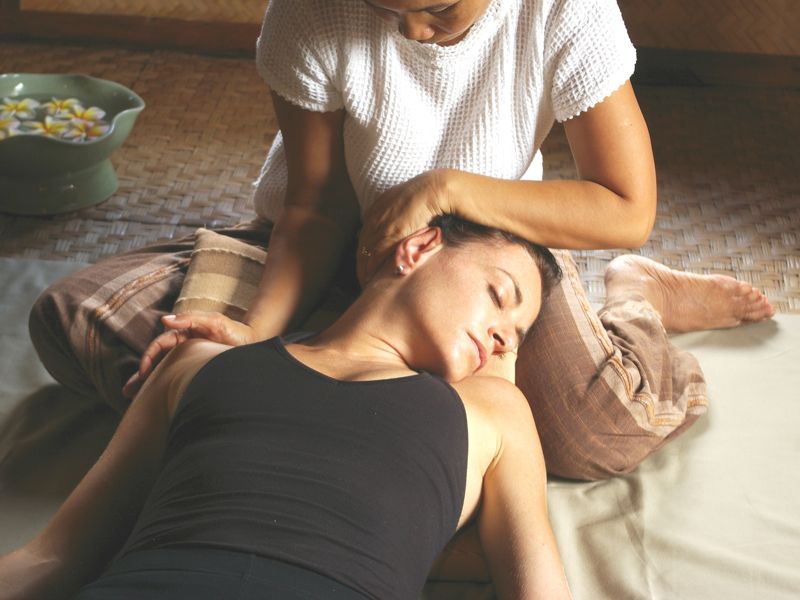 There are many schools of Traditional Thai Massage in Thailand, and of course developments are coming back to Thailand from abroad all the time as well. On the left, Maw Hom is working with real Thai patients at a busy local clinic in town -- no spa trappings here, and at a negligible price -- but the very same art. The partner on the right is a yoga teacher and therapist from Paris who teaches at a well-known Massage School for foreigners. Indeed, Nuad Boran has become global, and Maw Hom is a touchstone for people from all over the world who want to learn more about it at its source. Because Thai Massage remains an essential peoples' way of healing in Thailand even as it becomes a more and more important 'Alternative' practice in the West.

THAI TRADITIONAL FOOT REFLEXOLOGY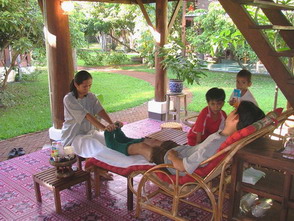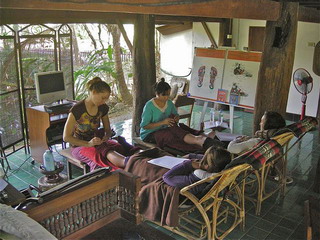 Foot Massage is an elaborate ritual as well as a profound healing strategy--it is particularly poignant in those hot places in the world where shoes are left outside the door (look on the left and you'll see!). Here the massage therapist is 'Bang,' Maw Hom's sister-in-law -- her two little children, Up and Pop, spice up any activity at Baan Hom Samunphrai!
On the right Acharn Bang (in green) is teaching Foot Reflexology in a 5 day workshop in her studio beside our pond. The work requires great concentration, and you obviously must be able to see what she's doing, so her classes are restricted to a maximum of 6. Ajarn Bang has designed our Reflexology Notebook with its 243 photos taken by her husband, Vichian Chaleekanha, and has also made a 40 minute Demonstration DVD -- she has been showing it to these students on the iMac just behind her.
OUR TREATMENTS:
Among other services, we offer Thai Traditional Massage and Herbal Steam Baths in a small village 9 kms southwest of Chiang Mai. But it's essential to phone ahead as we are very small --
tel. 053.817.362 - Thai & English.
tel. 081.885.1429 - English or Thai direct to Homprang (8.00am or after 6.00pm is best for her.)
A Full Massage takes about two hours and costs 800 baht -- a Foot Massage is 400 baht and takes about one hour. Either can be combined with a Herbal Steam Bath (200 baht) which can take up to an hour and includes dips in our cooling pool along with home-grown herbal tea.
If you think you might benefit from a special Therapeutic Massage (1300 baht), Therapeutic Massage with Herbal Compresses (1600 baht), or Womb-lifting (1600 baht), you can discuss your condition with Homprang. Indeed, you may come just for an informal talk about your condition with her -- there is no charge for that. And we welcome visitors.
(You can click here for a list of our Treatments and Charges.)


You will walk by this moss-covered waterpot under our Bo Tree as you enter.
TREATMENT COSTS -- updated March 12th, 2023
Current Exchange Rate: $1.00 = 34.8 Baht
Thai Traditional Massage
Full Set (up to 2 hours)
Full Set + Steambath + Pool (about 3 hours)


Bt 800
Bt 1000

Herbal Steam Bath, Pool & Tea (about 1 hour)

Bt 200

Foot Massage (about 1 hour)

Bt 400

Therapeutic Massage (about 3 hours)

Bt 1300

Therapeutic Massage + Steambath (3 to 4 hours)

Bt 1500

Therapeutic Massage + Herbal Compresses (about 3 hours)

[As the herbal compresses contain the same herbs as are in the steam baths,

we usually recommend one or the other. If you would like to enjoy the

experience of both you would be welcome to at a charge of Bt 200 more.]

Bt 1600

Womblifting (2-3 hours)

Bt 1600
We have not increased our fees since 2017, and our charges remain low.
We hope very much that our clients will understand just how important it is to tip one's therapists. If a massage is supposed to take about 2 hours and your therapist works on you for 3 or more, which frequently happens here, you ought to think of giving a very good tip directly to the therapist. (If you can't afford more, no one will criticize you, and a heart-felt wai is very good too. On the other hand, if you can afford it, don't stint!)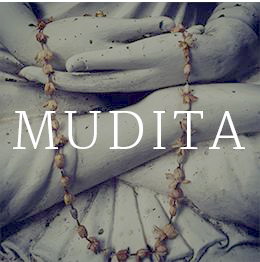 WHAT THE MASSAGESHERPA SAYS:
"Homprang is a serious teacher, protective of what she knows without being mean or pretentious. The courses at Baan Hom are open to anyone who would like to learn and can be as short as a week or as long as a few months. They also run the gamut of Homprang's inherited and studied knowledge as a herbalist, midwife, and massage therapist. It seemed possible she could eradicate pain with her eyeballs."
Click on MUDITA for an assessment of Homprang's work in Thai Medicine