Address:
Baan Hom Samunphrai
93/2a Moo 12
Tawangtan, Saraphi,
Chiang Mai 50140,
THAILAND
tel. 053-817-362 (English)
tel. 053-817-356 (Thai)
fax. 053-817-362
tel. 081.885.1429
(Maw Hom direct)
e-mail: baanhom@homprang.com

website:
www.homprang.com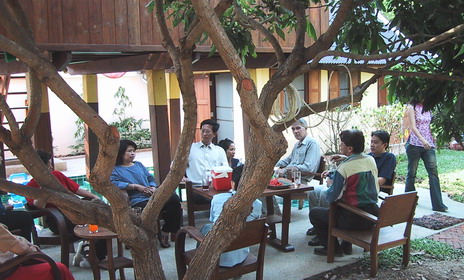 CONFERENCES & SEMINARS
A local NGO group involved in a serious exchange beside the pool. We pride ourselves on the diversity of the people and interests we host.
Baan Hom Samunphrai is an ideal location for groups up to 20 who want to work with their own leaders or teachers--yogins, therapists, activists, traveling players, artisans of the body, mind or spirit--or if you just need a quiet, sympathetic space in which to pursue your group's special interests or issues. Although we are located in a rural area and are surrounded by beautiful countryside, we don't pretend to be a mountain retreat or jungle hermitage--we're just 9 kms from the centre of a bustling Asiatic city, after all. Of course we appeal to groups that work best in natural and harmonious surroundings, but our sort of people also know they need the complexities and, yes, ambiguities of real life to keep them whole. So if you choose us you will probably also want to explore the Night Bazaar, ride an elephant, or climb up through the jungle to visit Chiang Mai's holiest temple on Doi Suthep mountain. Still others may want to head out for an evening on the town complete with Thai jazz or blue grass, or, best of all, authentic luk thung, Thai country music!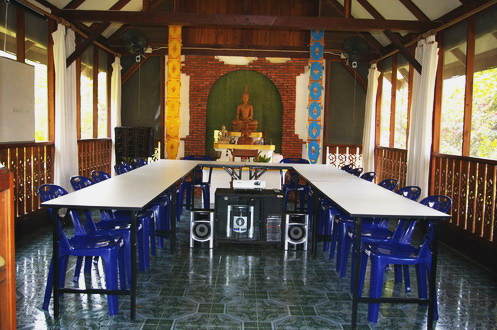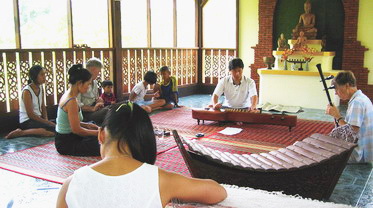 Despite our simplicity, we are well-equipped to handle Conferences We also welcome musical, theatrical and performance groups. Here
for up to 20 persons--we provide wifi, 2 stationary computers with Kru Nym, a Thai master, leads a group of western as well as Thai
printers, Skype, a power-point projector, video and a sound system. students learning to play classical South East Asian instruments.
And we're much, much cheaper than most resort hotels: we offer simple wooden farmhouses, comfortable bedrooms, screened work spaces, and three delicious meals with tea, coffee and snacks at all hours all for 1000 baht ($33.00) per person per day. At this price transportation, steam baths, and massages can't be included, but we are very pleased to quote special package arrangements, and many groups choose to include daily transportation to the city, unlimited use of our bicycles, use of the cooling-off pool and steam baths. We provide full seminar facilities for up to 20 at modular tables with a power-point projector ($66.00 per day), video camera ($50.00 per day), stereo, wifi everywhere, two fixed computers, printers, copy facilities, flip charts and white boards. We are also pleased to offer an early morning Rasidaton ('Thai Yoga') session at no extra charge.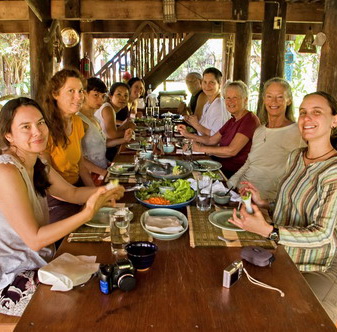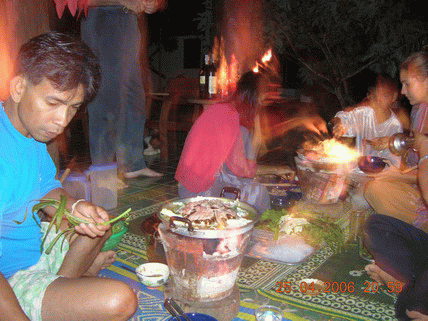 Natural eating can also be gracious--and of course delicious. This is a Groups are also treated to traditional evenings where the whole
vegetarian lunch shared by a group of 8 professional students in a three Baan Hom family, including all the children, sit down on the
week Thai Massage program organized by D'vorah Swarzman (right) of floor with the guests. This particular meal, nua yang kowlee, is
Ashland, Oregon. (Guests can participate in the walk to the market and cooked on charcoal braziers placed in the middle of the group
the cooking, but never in the washing-up!) on mats. (We can cater for any dietary preference.)

GROUP RATES FOR SEMINARS & CONFERENCES
10-15 persons (20 at the very most if couples are included)
Full Room & Board Bt 900 ($28.00) per person per dayS
We go by baht -- dollar rates are roughly 32 baht = $1.00.
Refunds cannot be made for individual meals missed on Group Rates.
Transportation, alcohol & steam baths are not included in our group rates. Please do discuss with us your requirements so that we can quote you our special group prices for additional services. We are also very pleased to discount our Health and Thai Traditional Massage services for groups who plan ahead.
All Group bookings must be accompanied by a 25% non-refundable deposit 3 months before the Conference begins. The balance is due on arrival. Should your plans change we will be pleased to consider alternative dates if our schedule possibly permits.