Address:
Baan Hom Samunphrai
93/2a Moo 12
Tawangtan, Saraphi,
Chiang Mai 50140,
THAILAND
tel. 053-817-362 (English)
tel. 053-817-356 (Thai)
fax. 053-817-362
tel. 081.885.1429
(Maw Hom direct)

e-mail: baanhom@homprang.com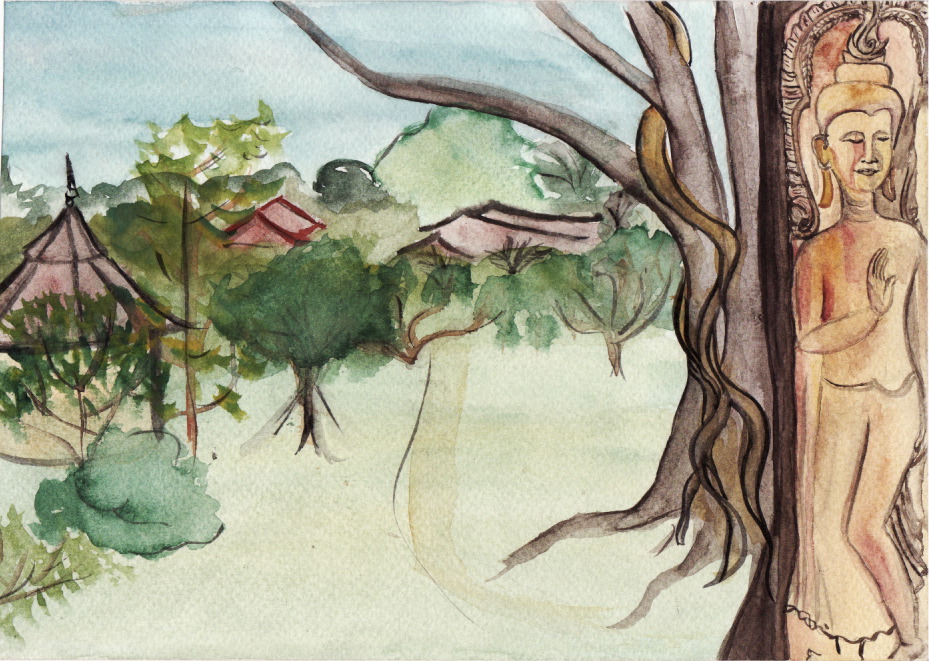 Watercolour by Inga Schmalz, Baan Hom Samunphrai, March 30th, 2009
Courses Already Formed or Forming
GOVERNMENT CERTIFICATES are awarded for 60, 80 and 150 hour courses only. You may study for shorter periods if there is room, but only a testimonial of attendance can be given.
Classes are closed at a maximum of 8 students --in the STATUS Column below limited places means 5 or 6 students have already registered. Full means 8 students have paid the deposit and the class is closed. If you are really interested please do put yourself on our Waiting List as even after deposits have been paid cancellations do occur. And we'll tell you where you are on the list and, of course, keep you posted.
More detailed COURSE DESCRIPTIONS can be found here. If you are confused or don't find what you want please do e-mail us.
SIMILARLY COLORED COURSES are designed to be taken one after the other -- the skills taught are incremental, and there is continual practice but no repetition. You can click on the heading to read about our Multiple Course options.
25% DEPOSITS. Our courses are very small and often fully booked. For this reason we must ask for a 25% Deposit to book a place. You can click on the PayPal Thai logo in the right hand column to reserve your place. The Deposit is non-refundable and includes a 4% fee to cover the Transfer and Currency Conversion. To pay with your credit card you must first click on the PayPal Thai Logo and then click on Pay with my credit or debit card at the bottom of the PayPal pop-up window.
SHORT COURSES. Our 30 hour short courses are formed for small groups who want to concentrate on some very specific therapy or technique. They can be taken together or separately. At times the groups split up as well to work simultaneously in separate spaces with Homprang, Bang, or other specialist teachers.
NON-LIVE-IN STUDENTS must also pay a 25% deposit -- we will e-mail you a 'PayPal Request for Payment' form to facilitate a non-live-in reservation as soon as you have decided. You can pay with your credit card on that too.
To calculate specific COURSE FEES you can click here.
For more on BOOKING & PAYMENT you can click here.
DATE
COURSE & COST
STATUS
DEPOSIT

Sept 20th to Oct 15th, 2013

150 hr Thai Therapeautic Massage Course (25 days Live-in,
49,200.00 Baht)

Oct, 16th to 19th, 2013

30 hr Foot Reflexology

(4 day Live-in 8,400 Baht)


(max 6 students)

Oct. 21st to 30th, 2013

60 hr Herbal Workshop: Womblifting, Compresses, Herbal
Preps + Food as Medicine etc. (10 days Live-in, 19,900.00 Baht)

Nov. 6th to 19th, 2013

80 hr Thai Massage Course (14 days Live-in, 27,200.00 Baht)

Dec. 4th to 17th, 2013

80 hr Thai Massage Course (14 days Live-in, 27,200.00 Baht)

full

Dec. 19th to 28th, 2013

60 hr Foot Reflexology & Related Topics: Herbal balms.
Diagnosis, Sen Points & Lines (10 days Live-in, 19,900.00 Baht)

full

Jan. 1st to 10th, 2014

60 hr

Herbal Workshop: Womblifting, Compresses, Herbal
Preps + Food as Medicine etc.

(10 days Live-in, 19,900.00 Baht)

full

Jan. 13th to Feb. 6th, 2014

150 hr Thai Therapeutic Massage Course(25 days Live-in,
49,200.00 Baht)

open

Feb. 10th to 22nd, 2014

80 hr Thai Massage Course (14 days Live-in, 27,200.00 Baht)

open

Mar 3rd to 27th, 2014

150 hr Thai Therapeutric Massage Course

(25 days
Live-in, 49,200.00 Baht)

full

Mar 31st to Apr 4th, 2014
[separately or together]
Apr 5th to 10th, 2014

30 hr

Womblifting

W

orkshop (5 days Live-in, 10,500.00 Baht)



30 hr

Foot Reflexology

(5 days Live-in, 10,500.00 Baht)

limited
places
Apr. 10th to 20th, 2014

Closed for the Songkran Festival

Closed
Apr. 21st to May 3rd, 2014

80 hr Thai Massage Course

(14 days Live-in, 27,200.00 Baht)

open

May 4th to 12th, 2014

"Le Village Thaï du Bien Etre:" The first in a series of seminars in French on health and well-being organized by Christian Barou and Judith Morlet.

open

June 2nd to 26th, 2014

150 hr Thai Therapeutic Massage Course

(25 days
Live-in, 49,200.00 Baht)

open
COURSE FEES
Live-In Students are charged Bt 2100 per day -- and that includes everything: a private room of your own with 3 meals a day, 1 hour of Thai yoga plus 6 hrs of teaching, the illustrated Baan Hom Practitioner's Notebook, steam baths, bicycles, internet, and transportation to Chiang Mai when you need it. The only additional cost is for wine or beer with your evening meal if you wish.
The charge for Days-off & Extra Days is 1000 baht per day -- for Live-in Students all the perks continue, including the steam baths and the transportation, and many take the opportunity to practice in one of our spaces.
Non-live-in students are welcome at 1200 baht per day. This fee includes our book, lunch and a herbal steam bath. Non-live-in students are welcome to join the Rasidaton (Thai Yoga) at 7am free of charge. but there is a charge of 150 baht for non-live-in students who want breakfast at 8am as well (juice, muesli, fresh yoghurt, fruit, whole grain bread or toast, wild honey, jam, tea and coffee) . The class itself is from 9am to 4pm with an hour off for lunch. The Steam Baths are usually at 5.00 to 5.30pm.
Discounts. As much as we would like to, we simply can't afford to offer discounts anymore.
Baan Hom Samunphrai is not a 'business' in the usual sense of the word, but a self-sustaining community -- our objective is to break even each year if we can. Of course, if we make a profit we can develop the place a bit -- this year, for example, we have been able to add three more bicycles to the fleet, and have replaced our beloved, 22 year old song taew with a new blue Isuzu. Those of you who remember how hard it was to make it to the top of some of the hills in Chiang Dao will be relieved, and in addition we now have enough room to transport you all in one go.
An additional note on reduced fees. Homprang offers her services free of charge to the large number of local Thai therapists studying at The Association of Thai Traditional Healers (Chiang Mai) to prepare for their Ministry of Public Health licenses in Midwifery, Herbal Pharmacology, Traditional Medicine and, of course, Traditional Thai Massage. If you have the chance to go with her to some of her Thai classes in town you will understand why she is so devoted to this work -- you can click here and here to get a glimpse of it.
2013 Soaring Crane Massage and Acupuncture Training Group
Eric Spivack. Acupuncturist, Thai Massage Therapist and much respected Lecturer on both subjects from Seattle, Washington brought his Soaring Crane Massage and Acupuncture Training Group to Baan Hom Samunphrai from February 11th to the 21st, 2013. (You can click on the logo to find out more about Soaring Crane and its charismatic leader.)
In addition to further advanced study in Thai Traditional Massage, Homprang led the 12 students in Rasidaton every morning at 7am and, as she always does, introduced some of her own special therapies and healing techniques. In addition, a great variety of more-or-less massage related activities took place for the whole group of 16 including professional shopping from cushions to sarongs, Thai cooking, down on your hands and knees in a sacred cave, elephant-washing, talking with monks, star-gazing and, for those with a bit of energy left after all the studying, walking, bicycling and talking, high-energy aerobics with the locals in the village graveyard!
Click here for a whole gallery of photos taken during this tour by Soaring Crane's photographer extraordinaire, Tobie Stevens (don't miss his 'Thai Motorcycles' Gallery either, and his '2013 Thailand' Gallery of professional photos is unique in its intensity, diversity and insight!).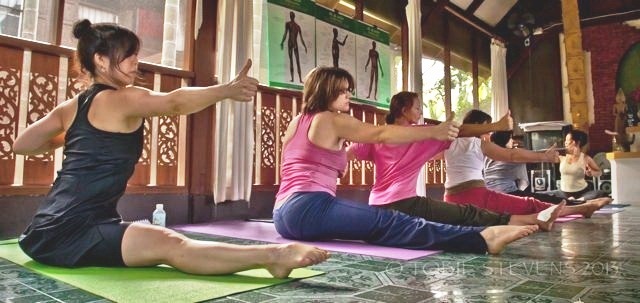 Rasidaton (the 'Thai Yoga' of the forest hermit, Rusi) at 7am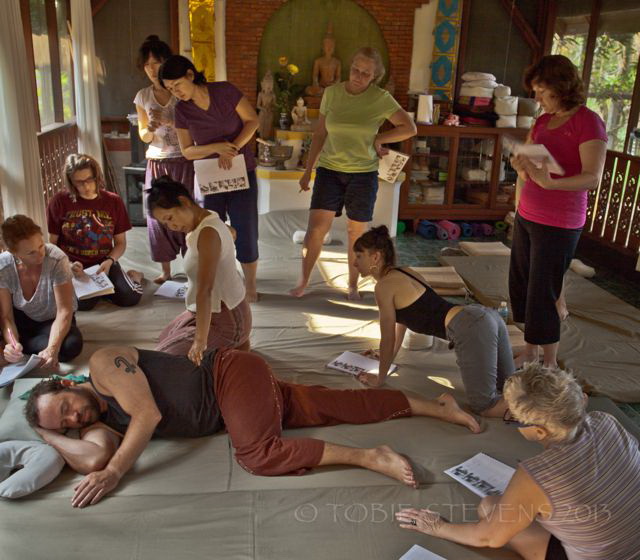 Advanced details, points and strategies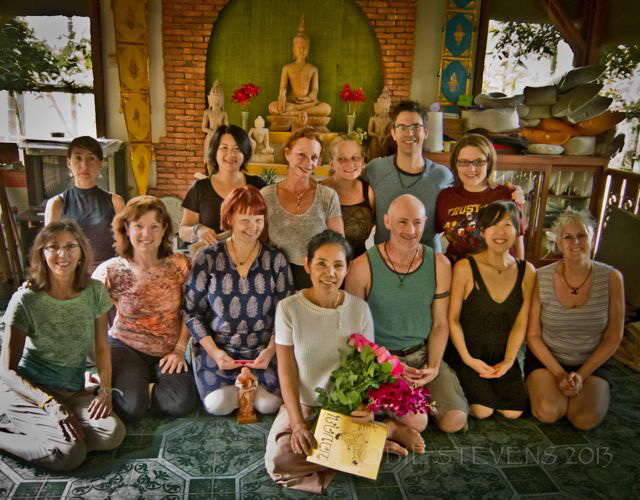 An inspired group brought to Homprang for further study by their own inspired and nurturing teacher --
Eric Spivack is sitting behind her left shoulder. A most fruitful and joyous collaboration.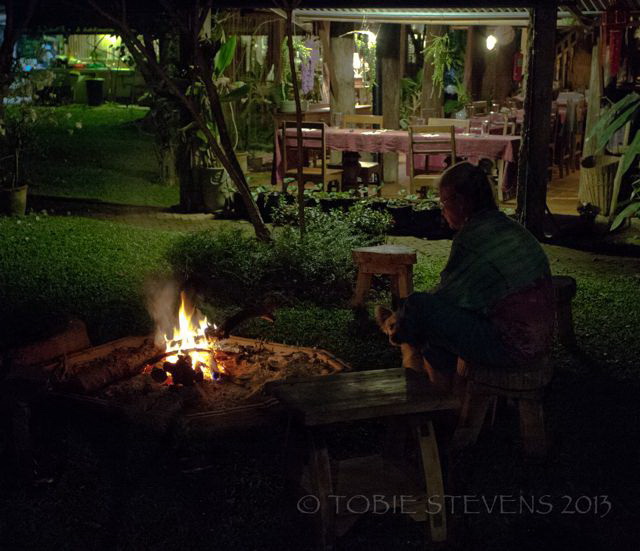 And much to think about too -- even when there was nothing going on.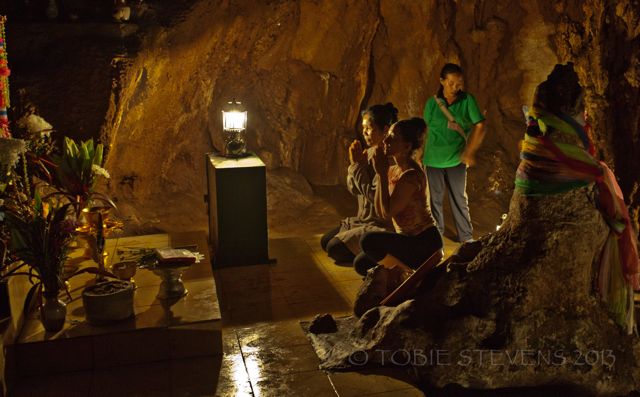 The group also visited this Rusi shrine deep under the holy mountain of Chiang Dao (Homprang on the left).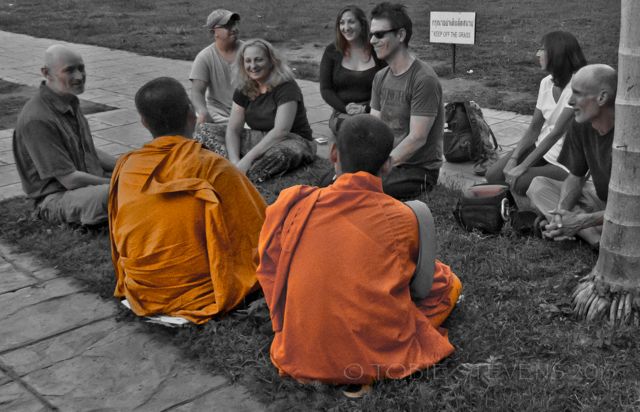 And chatted in English with monks at the Wat Suan Dok Buddhist University (Eric Spivack is on the left).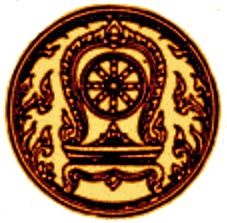 Under the control of the Thai
Ministry of Education:
Chor Mor 04-004/2554

LINKS TO A FEW SITES THAT PHOTOGRAPH AND TALK ABOUT US:
You can visit this site to read a recent article, "Le massage Nuad Boran avec Maitre Homprang," in the June 2009 issue of the French magazine, Les Nouvelles Esthetiques. By the well-known therapist and health journalist, Guy Dumont, the article has beautiful photographs too. Click here to find a PDF file you can download from the magazine. Or try here: http://www.guydumont.com/pdf/versionFull/5.2/177.pdf
You can visit this site for some recent photos by a French student--and a fascinating commentary on Thailand en français!www.ericeloethugo.blogspot.com . And here's another page from the same site with a much fuller account of Baan Hom--also in French, of course. Click Here and scroll down to "samedi 1 novembre 2008."
Visual commentary of a very striking sort from Gonga and Tara on www.universalfellowshipoflight.com--we feel fortunate to be photographed by visitors with such sensitivity for the Buddhist as well as folk traditions of Thailand!
Expert assessment from Robert Byrnes of Phoenix, Arizona on his Synchronicity Massage Newsletter. He writes some of the most informative and on-moving Massage Therapy commentary that we've seen.
More earth-y commentary on w.w.w.realtravel.com, this time by the well-known L.A. environmentalist, Andy Lipkis, founder of Tree People: Click Here as well for a more specific review with more photos & lots of stars.
Photos and personal statements from members of The Chicago Thai Massage School Thailand Adventure that came to Chiang Mai in February 2011 and, among many other activities, studied with Homprang at Baan Hom Samunphrai.
If you missed our film, Baan Hom Samunphrai, you can click on it here. It was made by Sam Kalayanee -- at the same time he was co-producing 'Burma VJ,' a documentary on the Saffron Revolution' that was nominated for an Oscar in 2010. See the bottom of our Where We Are page for a little more information on how the film was made.
For something really hot off the press, try Revitalized in Paradise --you can scroll down to the bottom of our Home Page. for an account of our encounter with the author, Kundan Ewan.