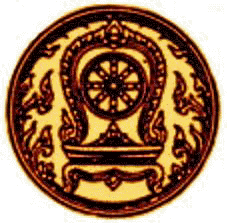 Under the control of the
Thai Ministry of Education
Chor Mor 04-004/2554


Address:
Baan Hom Samunphrai
93/2a Moo 12
Tawangtan, Saraphi,
Chiang Mai 50140,
THAILAND
tel. 053-817-362
tel. 081.885.1429
(Homprang direct)
e-mail: baanhom@homprang.com
website:
www.homprang.com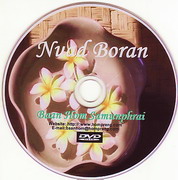 Address:
Baan Hom Samunphrai
93/2a Moo 12
Tawangtan, Saraphi,
Chiang Mai 50140,
THAILAND
tel. 053-817-362
tel. 081.885.1429
(Homprang direct)
e-mail: baanhom@homprang.com
website:
www.homprang.com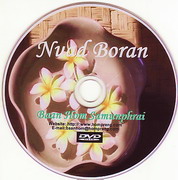 Address:
Baan Hom Samunphrai
93/2a Moo 12
Tawangtan, Saraphi,
Chiang Mai 50140,
THAILAND
tel. 053-817-362
tel. 081.885.1429
(Homprang direct)
e-mail: baanhom@homprang.com

website:
www.homprang.com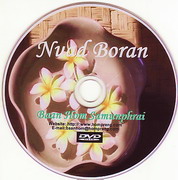 Address:
Baan Hom Samunphrai
93/2a Moo 12
Tawangtan, Saraphi,
Chiang Mai 50140,
THAILAND
tel. 053-817-362
tel. 081.885.1429
(Homprang direct)
e-mail: baanhom@homprang.com

website:
www.homprang.com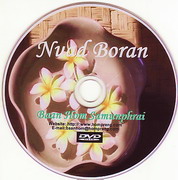 Address:
Baan Hom Samunphrai
93/2a Moo 12
Tawangtan, Saraphi,
Chiang Mai 50140,
THAILAND
tel. 053-817-362
tel. 081.885.1429
(Homprang direct)
e-mail: baanhom@homprang.com

website:
www.homprang.com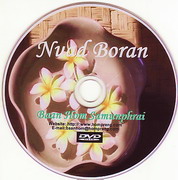 Address:
Baan Hom Samunphrai
93/2a Moo 12
Tawangtan, Saraphi,
Chiang Mai 50140,
THAILAND
tel. 053-817-362
tel. 081.885.1429
(Homprang direct)
e-mail: baanhom@homprang.com

website:
www.homprang.com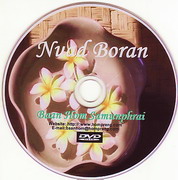 Address:
Baan Hom Samunphrai
93/2a Moo 12
Tawangtan, Saraphi,
Chiang Mai 50140,
THAILAND
tel. 053-817-362
tel. 081.885.1429
(Homprang direct)
e-mail: baanhom@homprang.com

website:
www.homprang.com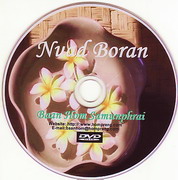 Address:
Baan Hom Samunphrai
93/2a Moo 12
Tawangtan, Saraphi,
Chiang Mai 50140,
THAILAND
tel. 053-817-362
tel. 081.885.1429
(Homprang di
e-mail: baanhom@homprang.com

website:
www.homprang.com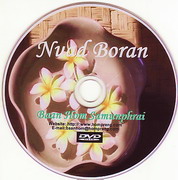 Address:
Baan Hom Samunphrai
93/2a Moo 12
Tawangtan, Saraphi,
Chiang Mai 50140,
THAILAND
tel. 053-817-362
tel. 081.885.1429
(Homprang direct)
e-mail: baanhom@homprang.com

website:
www.homprang.com
MEMBER OF
The Association of Thai Tradi-
tional Healers (Chiang Mai)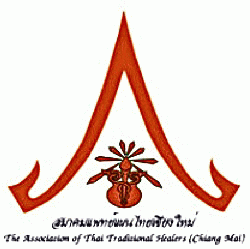 สมาคมแพทย์แผนไทยเชียงใหม่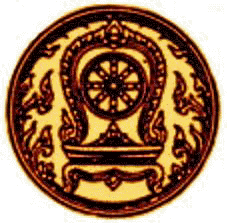 Under the control of the Thai
Ministry of Education:
Chor Mor 04-004/2554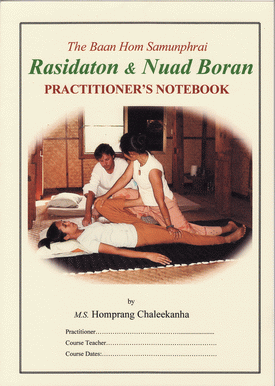 TRAINING COURSES
The Baan Hom Samunphrai School offers training courses in Thai Traditional Massage and related herbal therapies at all levels. Whether you're a beginner or an advanced practitioner, our teaching is very hands-on and personal. Maw Hom also encourages the individual to discover his or her own strengths and strategies, as every healer is individually built and uniquely endowed. Age matters too, as do cultural habits--some 'Nuad Boran' positions are physically impossible for some westerners, for example, but that doesn't mean they can't be adapted to western talents. Indeed, if you're one of those who fears you may not be able to do it, come to us for support and encouragement. Equally, if you're a professional with years of experience come to us for renewal, tuning and, so important to all in-depth body-work, inspiration that really touches the earth!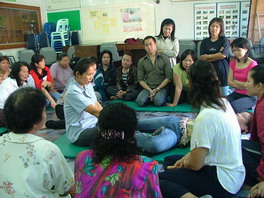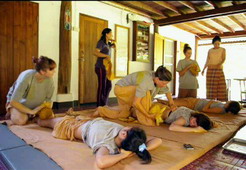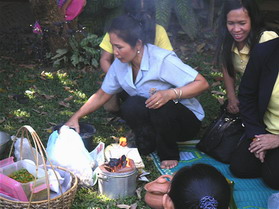 Maw Hom teaches many aspects of Thai Traditional Medicine. Left to right. 1.) She teaches professional therapists who are preparing to take the new Thai Ministry of Public Health exams at a local Buddhist temple-clinic ; 2.) young westerners who are learning to prepare and use herbal compresses; 3.) and traditional healers from all over the world who want to know more about old herbal medicines and how to use them effectively in a modern context.
HOW WE WORK
We award Thai Government Certificates for 60 hours (9 days of study plus 1 day off), 80 hours (12 days of study plus 1 or 2 days off) or for 150 hours (22 days of study plus 3 days off). On occasion we offer shorter workshops as well, but we are not permitted to award official certificates for shorter periods.
The Baanhom day begins at 7am with one hour of 'Rasidaton,' an ancient yoga-like warm-up based on the essential Thai Massage movements. Breakfast is at 8am followed by 6 hours of class from 9am-12 and 1pm-4pm, making a total of 7 hours of credited work per day. Most of our students live with us at the School in our full room & board accommodations, and use all our facilities, including the herbal steam baths free of charge, even on their days-off. We welcome non-live-in students, though we feel they miss a lot by not participating more fully in Maw Hom's life and family outside of class.
What is really different about us is that we do not stream our students. We restrict our classes to a maximum of 12 students, and that means Homprang and her assistants can give personal attention to everybody -- indeed, it's not surprising at all to see a naturally gifted beginner working beside a professional, or to see a professional voluntarily starting again on the fundamentals of technique as if he or she were a professional golfer working with a new swing coach, or a violinist even better!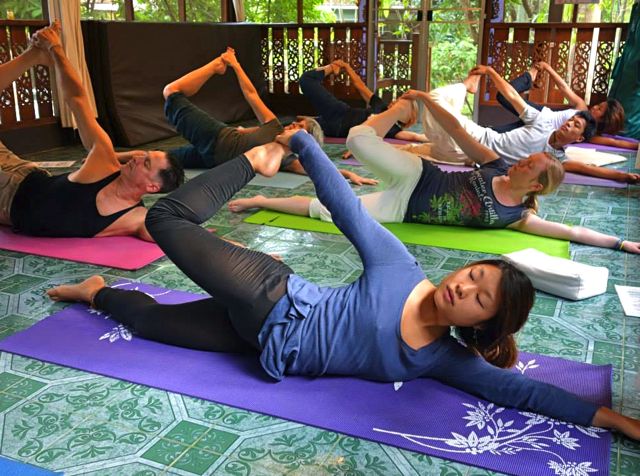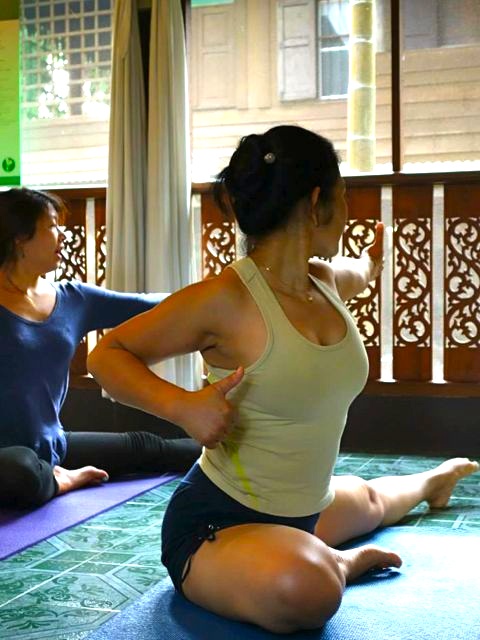 Every day begins at 7am with the students chanting a Pali invocation asking for help and protection from the Buddha and his personal doctor, Maw Chiwok--the latter sits garlanded with jasmine just below the Buddha on the shrine in our training space. This invocation is followed by one hour of Rasidaton, a Thai Yoga developed by another disciple of the Buddha, the forest hermit, Rusi--he usually sits next to Maw Chiwok in Thai medical shrines. Breakfast then follows at 8.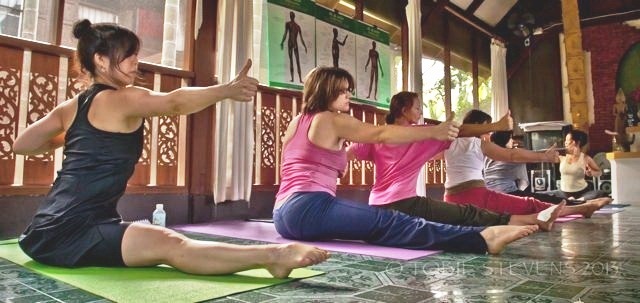 Above you can see 3 different groups doing the Rasidaton at 7am with Homprang. In fact it's not difficult for anyone, based as it is on the Thai Traditional Massage movements and stretches. On the other hand, those trained in Hatha Yoga seem to get as much from it as those who have never done yoga before in their lives. And Homprang is one of the very few Thai Massage teachers in the world who includes an hour of it in every class every day.
A CLASS PORTRAIT (80 Hour 'Nuad Boran & Rasidaton')
Screened on all 4 sides, our training sala has 3 sets of double mats along each wall, and Homprang and her assistants, in this case Aj. Bang and her Intern, Jamtsho, work from the center aisle, enabling all of the students to keep in contact with everything that's happening. There are 12 students in the class - Bang is top-center in green, Jamtsho is bottom-right, and Homprang has just stood up from the tan cushion on the left to take the photo. The 2nd photo shows you how Bang helps Inga (Latvian) with her hand position (her model is Nuala from Ireland). (It's a bit chilly in the morning at this time of year in Chiang Mai, hence the green blanket -- but no sweaters on the workers!)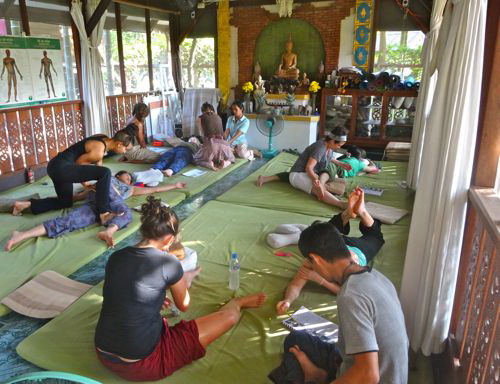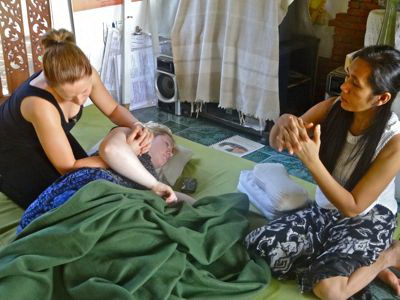 It's always fun and always roly-poly -- on the left below Naima from Brooklyn, N.Y. shares her notes with Ornthira, a Thai from New Zealand, while Elaine (Channel Islands) and Michelle (Denver, Colorado) work more on Irish Nuala. In the final photo everybody's yellow from working with fresh herbal compresses -- the only one you don't know is Giulia from Vienna in front. And age range, you ask? In this class the youngest is 20 and the oldest 63 -- and they're all there right in front of you, believe it or not.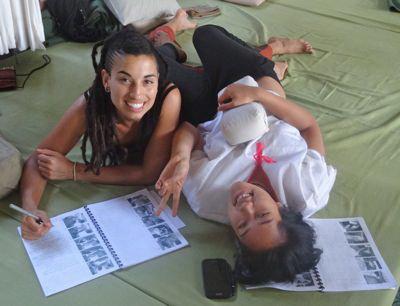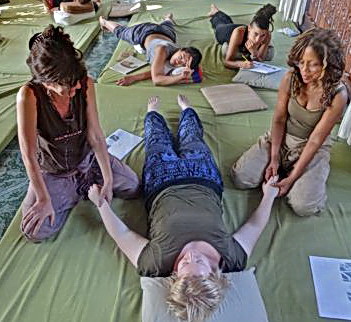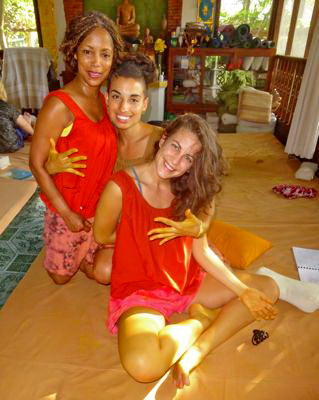 Having looked at these photos you might like to compare the mood and body language you see in Homprang's western students above with the photos of her Thai students working with her at a class in town. Click Here, and I think you'll agree that Homprang manages to create the same sense of ease, pleasure and well-being in both worlds.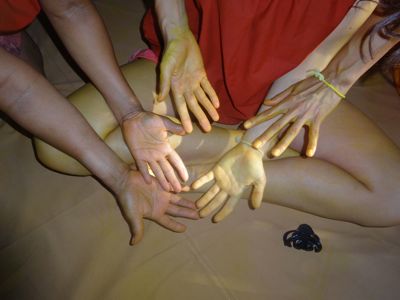 "Hands & legs yellow with hot herbal compress oils. Good!"
Homprang posts on her Baan Hom Samunphrai Facebook Page almost everyday, photos as well as words of encouragement just like this. Have a look to see how many people you know as well as where you might fit in yourself! Or are you here already?
LIVE-IN TRAINING per person per day
The basic Live-in Training Course rate is Bt 2200 ($67.50) per study day and Bt 1100 (about $33.70) for days-off . There are 2 variations on the basic price depending on the accommodation you select: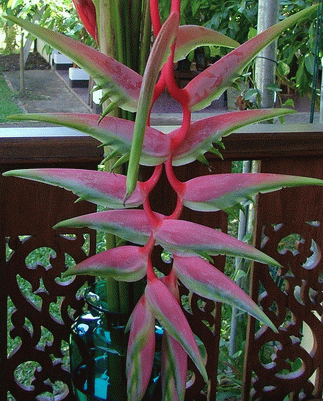 STUDY DAYS: Private room with shared bathroom -- Bt 2200 per person per day;
Private room with private bathroom -- Bt 2300 per day.
DAYS OFF: Private room with shared bathroom -- Bt 1100 per person per day;
Private room with private bathroom -- Bt 1200 per person per day.
The live-in fee covers full room & board (3 meals a day), 1 hour of yoga and 6 hours of training and supervised practice every day, a total of 7 credited hours. Students are also welcome to use the centre's facilities free of charge on their days-off including the pool, the steam baths, the wifi, computers and bicycles, and free transportation into Chiang Mai is available once a day.
Any student can be accompanied by a non-training partner, friend, or child who will be charged at the ordinary accommodation rate for meals and housing, and as a perk can join their student partners in the steam baths and on the trips to town free of charge. We've have had a number of couples with young children -- one parent babysitting while the other is studying, giving great pleasure to the staff and everybody else.
We also offer Training Courses for those who already have accommodation in Chiang Mai. The fee is Bt 1600 ($49.00) for our 11 to 12 hour day: one hour of Rasidaton at 7am, breakfast at 8am, 6 hours of class from 9am to 4pm, a healthy Thai lunch at noon, and a herbal steam bath after class about 6pm. Transportation is not included for non-live-in students, who must make their own arrangements to get here.
Transportation by tuk tuk or song taew will cost about 250 baht for a morning pick-up and the same again for an evening return. An alternative for a non-live-in student is to rent a motorcycle, or even a bicycle -- we've had a number students who have biked out here on a regular basis, even in the rainy season., even at 6.00am in the dark!
BAAN HOM SAMUNPHRAI TRAINING NOTEBOOKS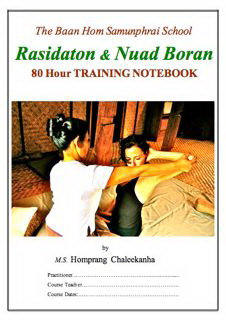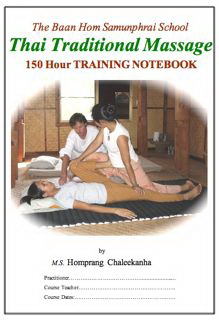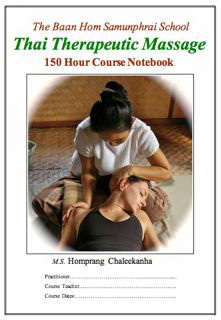 56pps with 183 photos + Rasidaton 68pps with 220 photos + Rasidaton 92pps with 308 photos & diagrams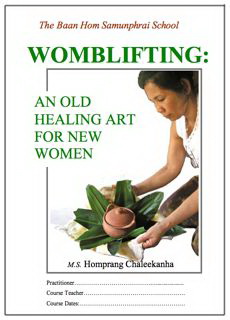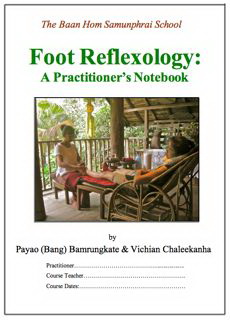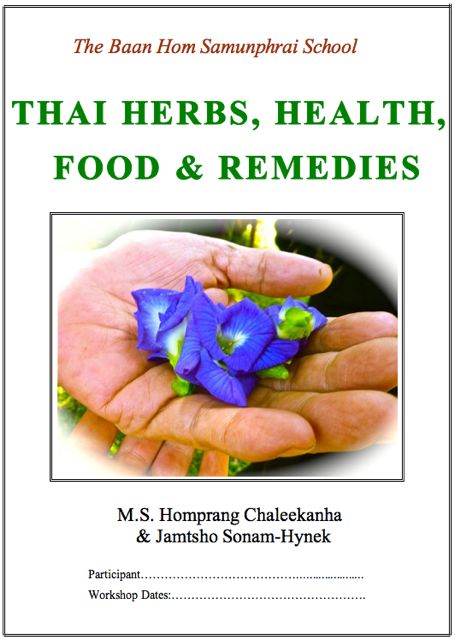 36pps + photos, diagrams & text 60pps with 234 photos + diagrams 52pps + photos, diagrams + text
+ Rasidaton +Rasidaton + Rasidaton
Maw Hom's Training Notebooks are all included with her courses, but there is an extra charge of 300 baht ($9.00) for each of her 3 Training DVDs: Rasidaton (40 minutes), Foot Reflexology (40 minutes). and Nuad Boran (1 hour 40 minutes).
M.O.E. CERTIFICATE COURSES
We are a fully licensed Thai Ministry of Education school, and offer M.O.E. Certificates for 60 hours (10 days), 80 hours (13 days) and 150 hours (25 days). All our courses include one day-off for every week of study.
You can click here for more on our Licenses and Credentials
The live-in fee is Bt 2200 per day and covers everything, the course, room & board, steam baths and transportation into Chiang Mai when needed.
There is a reduction for students who choose to stay in our dorm with its 5 beds. There is also a small surcharge added for those who prefer private bathrooms (we have only 4 of those, and those who really need them get priority). All our toilets and showers are clean and modern, and are at most down a short flight of stairs.
The non-live-in fee is Bt 1600 per day and, in addition to the 6 hour class work, includes the Rasidaton at 7am, breakfast at 8am, lunch at noon, and a herbal steam bath after class at 5.30pm. [Bt 34 = $1.00].
60 Hour Womblifting, Postpartum Care & Herbal Therapies.
9 days study plus 1 day off.
Cost: Bt 20,800 ($611.00) for 10 days live-in or Bt 14,400 ($423.50) for 9 days non-live-in.
Topics: Our Calendar makes the focus of each workshop very clear, but there are always surprises depending on the special interests and experience of the participants. Every study-day in all Homprang's work begins with an hour of Rasidaton at 7am, and there is always a lot of supervised practice.
The Womblifting Course is a unique experience, indeed one that changes lives -- you can get a glimpse of some of the diverse activities in the photos here, and there is also some description if you scroll down from here. The manipulation of the uterus is dramatic but entirely external -- a few close-ups of the abdominal manoeuvres are included in the following short video-clip. (It was specially edited for Homprang's Mandarin speaking 'Womblifting' and 'Thai Massage' students by her Taiwanese colleague, Xiayi Su.)
80 Hour Nuad Boran & Rasidaton. 12 days study plus 1 day off.
Cost: Bt 27,400 ($805.00) for 13 days live-in or Bt 19,200 ($564.70) for 12 days non-live-in.
Topic: Thai Traditional Massage (Nuad Boran) and Rasidaton (Thai Yoga). This course concentrates on the classic two hour Thai Massage: legs, arms, side, prone and sitting positions. Because technique with fluency is the focus, the stomach, face, and head are not included in this course, they are so intimate and particular. The modern tendency is to focus on the harder, more esoteric maneuvers at the expense of the simple grace, touch and flow of a whole, harmonious massage, yet the latter is far more difficult to acquire than any of the parts -- and once you've developed bad habits, grace, touch and flow are really hard to recover!
Hardworking beginners can learn the full Thai Massage 'set' in this course, while professionals can improve their technique, refine their touch, and learn how to look after both themselves and their clients even better. Rasidaton (Thai Yoga) is included in all Homprang's courses, but it's particularly important in this one as it is the Thai massage therapist's best friend, constant guide, and guardian against injury and burn-out.
150 hour Complete Thai Massage Course. 22 days study plus 3 days off.
Cost: Bt 51,400 ($1511.00) for a total of 25 days live-in including 3 days off or Bt 35,200 ($1035.30) for 22 days non-live-in. Suitable for serious beginners, experienced Thai Massage students, and professionals. This is the bread and butter course, it's where all the parts come together.
Topic: Thai Traditional Massage. This course also covers the whole Thai Traditional Massage, legs, arms, side, prone and sitting positions, but from the very start adds on a detailed study of the energy points and sen lines. There is as well a strong emphasis on the much more technical abdomen, face, and head. A very popular herbal compress day is included, both the identification and preparation of the herbs and the technical application of the compresses, and there are always interludes for the unexpected, walking-massage with sticks, for example, curious lifts, flips and roll-overs. The course has a strong academic element, and students frequently practice on each other in the evening after dinner to prepare for the written and practical exams at the end.
150 hour Special Therapeutic Massage Course.
Bt 51,400 ($1511.00) for a total of 25 days live-in including 3 days off or Bt 35,200 ($1035.30) for 22 days non-live-in.
Now open to all Advanced Students and Professional Therapists.
Topic: Thai Therapeutic (Acupressure) Massage for Serious Conditions. This course assumes the practitioner is not only familiar with the complete Thai Traditional Massage but has practiced for a substantial amount of time or, even better, worked as a Professional Therapist.
The 150 hour Therapeutic Massage Course concentrates on the acupressure points and sen lines that are used to treat specific conditions, injuries and ailments that go beyond what is usually thought of as 'Thai Massage:' stroke damage, migraine, and frozen limbs, for example. The abdominal area is explored in much greater depth as well, and the 'Royal Style' is taught as a special aid in the treatment of serious illnesses and injuries during the long, slow rehabilitation-type massages that are so effective at healing -- most Baan Hom Samunphrai students will have had at least one 3 or 4 hour therapeutic massage with Ajarn Bang or Ajarn Kanit after class, so they know just how much care, intelligence, concentration and, yes, patience are involved.
Serious students and professionals may opt to take this course more than once as the topics are constantly evolving, and each annual offering will be different. Homprang and her colleagues in Chiang Mai are constantly sharing new developments with one another as well as finding new angles on old practices that still live on in the countryside, or are found stashed away in royal closets. .
CLICK HERE to see the FOREWORD & INDEX to the 150 Hour Special Therapeutic Book.
You might also check out what we say about LONG TERM TRAINING just below. Indeed, there's a lot to think about in all this, and please do feel free to e-mail us your questions.
A Practical Demonstration of Thai Therapeutic Massage.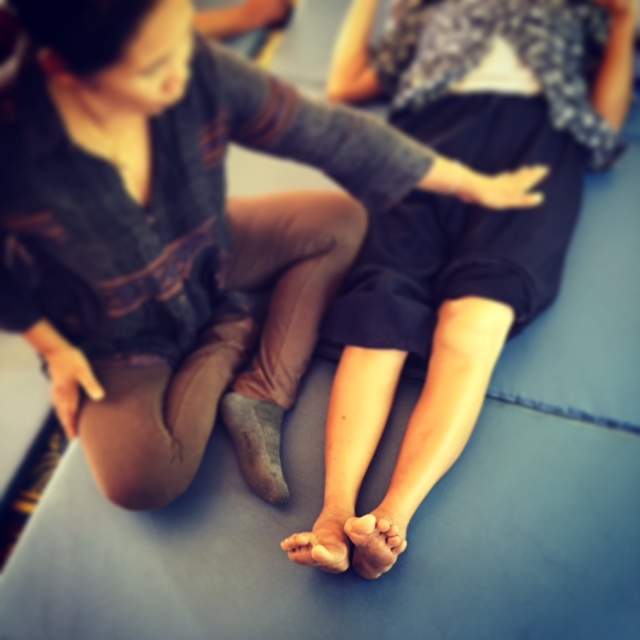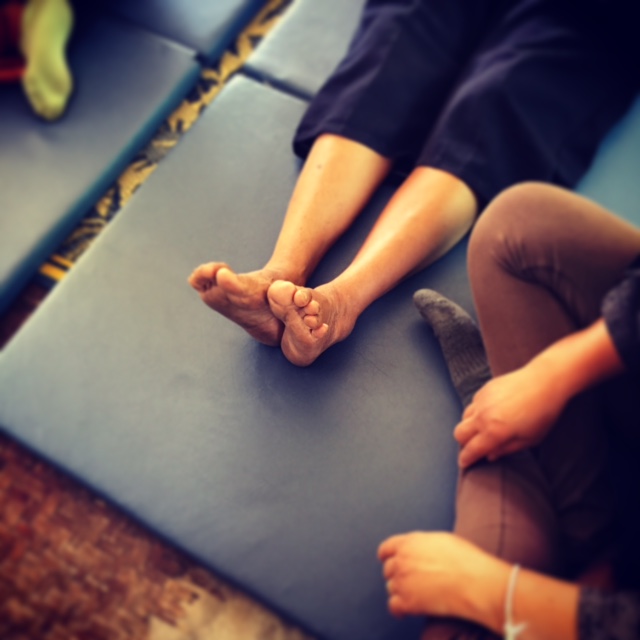 These before & after photos were taken by Brie Jacobs of Toms River, New Jersey on Sunday, June 14th, 2015 at a small annomai (local village clinic) near Doi Intanon. Organized by her organization, The Association of Licensed Thai Traditional Healers, Homprang worked on the crippled left leg of this patient for over an hour using some of the special acupressure techniques she had just been teaching her western students, who were watching. The result was astonishing -- a huge inspiration and uplift for everybody, westerner and Thai alike.
Whenever possible, Homprang integrates such experiences into her courses -- you can scroll down for more photos of her western students involved in local Thai programs.
WOMB-LIFTING, HERBAL THERAPIES & OTHER ACTIVITIES
Below are photos of some of the special activities Maw Hom has included in recent workshops.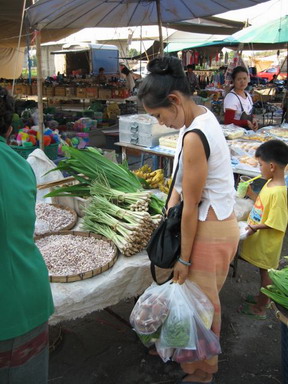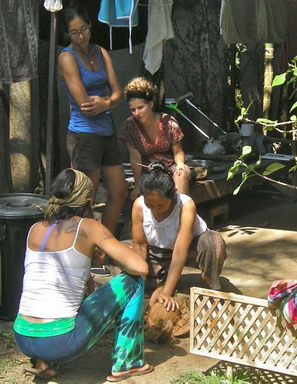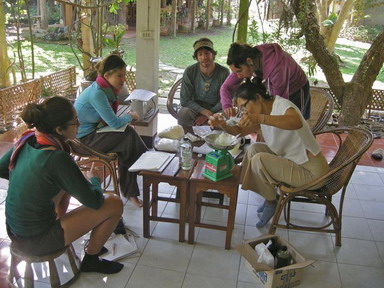 (l. to r.) Homprang goes every day to the earth market where she buys most of our food ; she shows how to open a coconut with a machete to make Mian Kham; she measures out the ingredients to make Tiger Balm. (She either grows the herbs or collects them in the wild in our neighborhood.)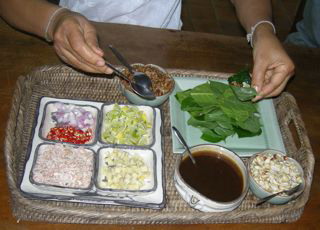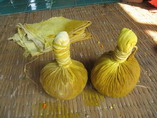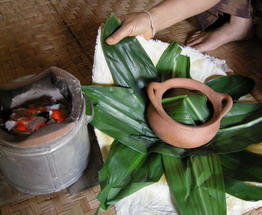 ( l. to r.) How to eat Mian Kham: newly made herbal compresses; preparing a herbal hot-pot for Womb-lifting; Womb-lifting with
Thai therapists in an outdoor workshop at Baan Hom.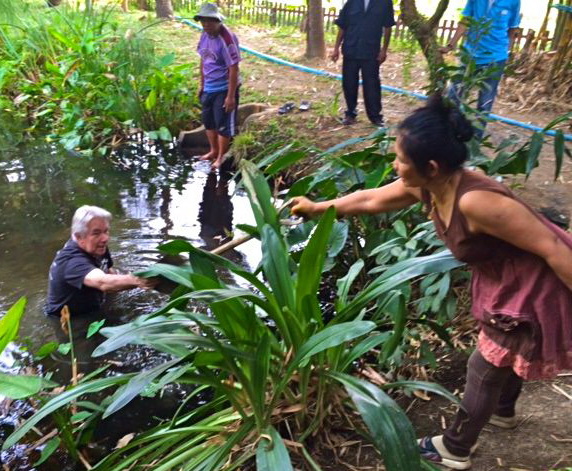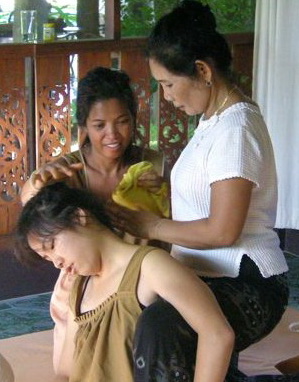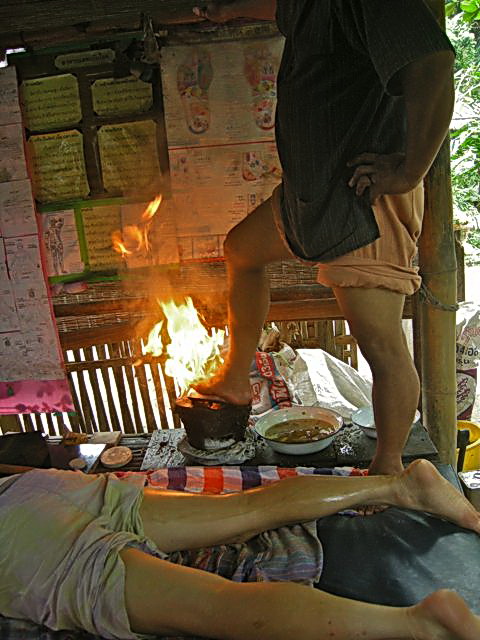 (l. to r.) Getting into it up to the waist in the herb garden; Homprang demonstrating herbal compresses to two Asian-American students; a student undergoing the 'hot-foot' therapy at a local Thai clinic (such a visit is always a high-point of a Herbal Therapies workshop!).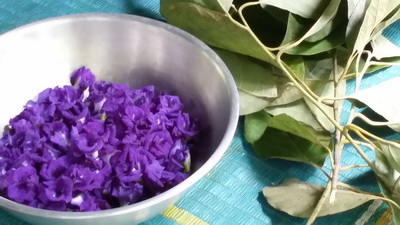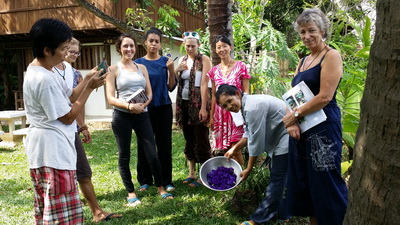 Click on the butterfly-pea flowers. You can join an event from a recent herbal workshop -- filmed by Homprang herself ! (The English name of the plant that makes the suds is "Soft Bollygum," "Bai Mee" in Thai.)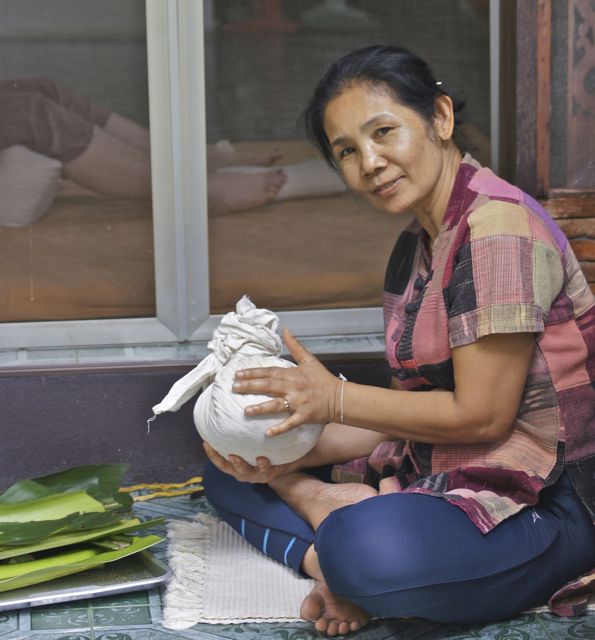 Womblifting is an ancient Thai healing art that involves hot clay pots like the one Homprang is preparing here for the client visible just behind her. She is holding a pot packed with sea salt which has already been heated up until the salt crystals pop, and then tightly wrapped in the green medicinal leaves just in front of her. Used as a giant compress, the process also involves the activization of special acupressure points, and the uterus is manipulated directly with the hands on the abdomen. The procedure is used both for post-natal health and for fertility problems, but most of all for overall feminine health and well-being.
Womblifting is one of Homprang's special interests, and women come from all over Thailand and abroad for treatments as well as for training. Similar techniques are taught for prostate problems in men, who can also join the class, indeed, there are many health benefits from such abdominal work for both sexes. Furthermore, every Womblifting Course is different, dependent as each one is on the needs, culture, age, health and life experience of the real-life participants.
You can click on the titles below to see some sample Workshops (every class is different
depending on the specific interests and experience of the participants):
60 Hour Womblifting & Herbal Therapies Workshop.
We have more and more students enquiring about Long Term Training from the beginner who dreams of becoming a Therapist to the experienced therapist who wants to become more of a Healer or even a Teacher. But the most urgent enquiry of all today is from the long-time professional who wants to add a special Therapeutic Massage to his or her practice -- a treatment lasting 3 or 4 hours at the one extreme or a short, intense intervention for those really serious problems on the other: stroke damage, debilitating migraine, and intractable lower backs. There are books and lectures out there describing such advanced interventions but very little real, practical time down on the mat actually doing them.
For that's the key, Homprang insists. "In the end your practice teaches you more than your teacher" -- she says while at the same time cautioning strongly against bad habits, which are indeed sometimes harder to get rid of than learning it all in the first place. "Get started right and then keep on developing," she always says. And that's why her best students keep coming back to her for more, and then a year or two later for yet more still. And of course Homprang and her colleagues in Chiang Mai are moving on too, and of course new treatments are evolving in Thailand all the time.
Below are two of the teacher/therapists Homprang has trained, and their stories are typical -- hours and hours of practice spread over months and months, indeed years of experience (they were both Homprang's Interns for 6 months along the way as well).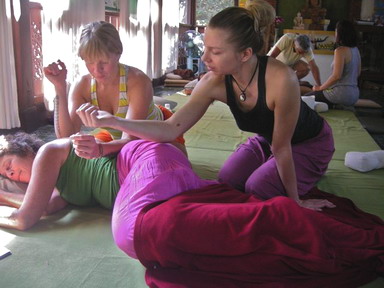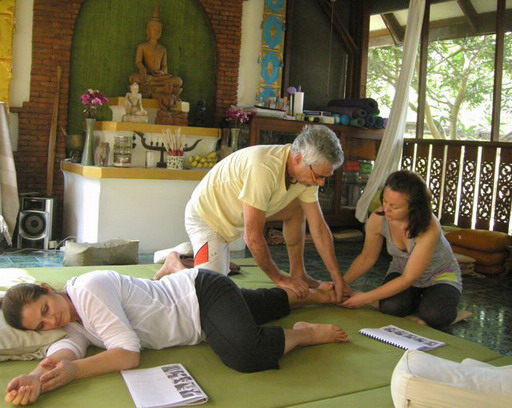 Katja Mὃgler from Germany (left, black top) and Holly Mackin (right, grey top) from California had both studied for many months with Maw Hom before they decided to train as Teachers. Here they are seen working with regular students during the final days of their Teachers Training Certificate program which they completed successfully at the same time as this 150 Hour Thai Massage Course for ordinary students.
There are two other long-term students profiled on our Homepage -- they are both professionals who have come back to study with Homprang again and again, indeed for 3 or 4 years in a row. So do feel free to ask us any additional questions you may have about how to put together a series of courses for yourself, including what to do with your time in between if you decide to do two or even three courses in one visit to Thailand.
THE DETAILS: Enrollment, Changing Money & Visas
HOW TO ENROLL IN A COURSE.
You can see a list of all the courses we are offering on our Calendar Page -- courses that complement each other are hi-lighted in green. As long as there is room you can take any combination you wish.
We ask for a 25% Non-Refundable Deposit to book a place, and we use PayPal Buttons to facilitate the process. You pay by clicking on the Deposit Button in the right hand column beside each course. There is a 4.5% fee to cover the Transfer and Currency Conversion charges -- we will credit you for the amount we receive, any discrepancy will be ironed out in the final bill.
To pay the deposit with a Credit Card you must first click on the PayPal Thai Logo on the Calendar Page -- the logo is in Thai but all the instructions are in English -- if the instructions come up in Thai choose "English" at the bottom of the page and then click on "Pay with my credit or debit card." To pay with your own PayPal account, see below (it can be quite a saving.).
You can see the status of each class on the Calendar Page. "Limited places" means there are 8 or more students already booked -- we close our classes at 12. We also have a "Waiting List" if a class hasn't opened for registration yet, or is now closed -- let us know and we will place you on it.
When to arrive. Most live-in students arrive the afternoon before the class begins because the Rasidaton (Thai Yoga) is at 7am on the first morning. If you do arrive the day before, your dinner and bed for that night will count as part of your first day of class, which means your course-fee will cover you through to the end on the last day of class at 4pm (plus one final steam bath about 6pm if you wish). You are always welcome to arrive earlier or to stay on for yet another night, but there is a charge for each extra day (dinner + bed + any meals the following day).
Students are expected to begin to pay the balance of their fees during the first week of class -- extras like laundry, drinks, medicines, DVDs and massages can be paid in cash at the very end.
We don't mind payments in stages -- we know it is difficult for travelers to get all the cash they need in one go. But you should aim to make a start during the first week.
Here are the options:
1.) Cash in baht. Baht can be obtained by exchanging your own country's bank notes at a Chiang Mai Bank or Exchange place, but there is always a charge whatever the posted rates seem to say. These charges vary very little from bank to bank or exchange place as they are all based on the same published bank rate each day, so it's really not worthwhile shopping around. (Sad to say, but it's no longer the 1950s what is more Casabalanca...)
2.) ATM Card. Many visitors today are using their ordinary checking-account ATM cards in Chiang Mai, but take note that there is a charge of 250 baht (about $7.50) per ATM transaction, so it's to your advantage to arrange a daily limit on your home bank account that will allow you to withdraw at least 10,000 baht (c. $320.00 / €263.00) in one transaction. (Some machines will allow you to withdraw 20,000 baht in one transaction (c. $640.00 / €516.00) -- which is even better as you will be saving $7.50 each time on the larger withdrawal). N.B. YOU MUST NOTIFY YOUR BANK AHEAD OF TIME IF YOU PLAN TO USE YOUR ATM CARD IN THAILAND.
2.) Credit Card. We do not have Credit Card facilities on our own account, but you can use your credit card to pay us through PayPal. We can also send you a PayPal Request for Payment by e-mail which you can then pay with your card. But take note, there is a PayPal charge for the transfer as well as the conversion from your currency to Baht. All that can amount to as much as 4%. Needless to say, any Transfer or Currency Conversion Fee is your responsibility -- we will provide you with the PayPal statement and credit you for the exact sum we receive.
3.) PayPal. The best option is probably a PayPal Account of your own. You can then use that account to pay both the deposit and subsequently the balance with your Credit Card, Debit Card, or funds you have deposited in your PayPal Account (those are the three PayPal options, and they're all very quick and safe). BUT YOU MUST SET THIS UP WITH PAYPAL BEFORE YOU COME TO THAILAND -- it takes at least a week, so do leave enough time.
We discourage Wire Transfers -- in our experience Wire Transfers are the most expensive and complicated method of all and create problems for our accounting as well as for yours.
As we say over and over again, you must notify your home bank of your travel plans before you come to Thailand, otherwise you may find your ATM and/or Credit Card has been blocked -- your bank will assume your card has been stolen if it's suddenly used in Thailand without notification.
It all changes so rapidly, and the rules vary so much from country to country and person to person, we cannot give you exact answers. Here's the best we can do:
1.) Visit the website of the Thai Embassy or Consulate nearest you and follow their instructions carefully. Ignore anything else you read or anyone else tells you, particularly if they have applied at another time or in a different country;
2.) The shortest Tourist Visa is granted if you arrive overland from anywhere or by air from a list of 15 Countries. It is just for 15 days and can only be renewed for either 1 week at Chiang Mai Immigration or for 2 weeks by leaving the country and coming back in again. That means a "visa run" to Burma or Laos from Chiang Mai. The list of 15 Countries and the requirements are clearly stated here: http://www.thaiembassy.com/thailand/visa-on-arrival.php. (The address and telephone number for your residence in Thailand are just to the left of this Note on Visas.) -- you will be asked for that. Do take note that Visas from India, China and Taiwan are on the 15 day list.
3.) Foreigners can now fly into Thailand from 55 countries and get a Visa Exemption on Arrival at the Bangkok Airport for 30 days -- this Visa Exemption is automatically renewable at Chiang Mai Immigration for an additional 30 days. It is easy because in fact it is NOT A VISA but a permit to enter the country with NO VISA, so it requires no special status. But do check to be be sure your country is on the list. http://www.thaiembassy.com/thailand/changes-visa-exempt.php.
4.) Another way, but more time-consuming, is to apply by post or in person at the Thai Embassy in your own country. For this you will be given a 60 day Multiple EntryTourist Visa visa which is automatically renewable at Chiang Mai Immigration for an additional 30 days. i.e. 90 days. An additional 30 days beyond this is also possible.
5.) Still more time-consuming is to apply at your Thai Embassy for a Non-Immigrant Visa (as opposed to a Tourist Visa). Up to 90 days can be obtained like this -- and 30 day extensions are granted at Chiang Mai Immigration once you are here. For this your embassy may well ask for a letter from us, but please do enquire about the details as there are many different requirements and specifications.
Take Note: The Baan Hom Samunphrai School is approved by the Thai Ministry of Education, and we can draft a Student Letter for you but only if it is asked for. We will need your full name, home address, and passport number including the date of issue and expiration. You must also have paid the 25% deposit on all your courses to show you are genuinely enrolled. We will e-mail you a scanned copy of the signed and stamped original by return.
A letter is never required for a Tourist Visa, and as 60 or 90 days is more than enough to cover most course combinations, that is what most of our students do.
Do feel free to ask us any more questions -- but be sure to do your own research as well!