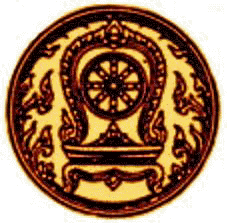 Under the control of the
Thai Ministry of Education
Chor Mor 04-004/2554
CLICK BELOW FOR
MORE PAGES


Thai Language Page
Credentials & Licenses


Address:
Baan Hom Samunphrai
93/2a Moo 12
Tawangtan, Saraphi,
Chiang Mai 50140,
THAILAND
tel. 053-817-362 (English)
tel. 053-817-356 (Thai)
fax. 053-817-362
tel. 081.885.1429
(Maw Hom direct)
e-mail: baanhom@homprang.com



Thai Language Page
Credentials & Licenses

MEMBER OF
The Association of Thai Tradi-
tional Healers (Chiang Mai)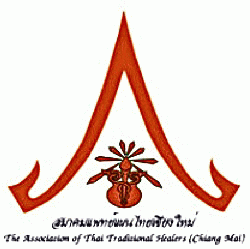 สมาคมแพทย์แผนไทยเชียงใหม่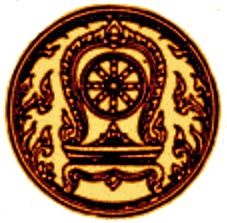 Under the control of the Thai
Ministry of Education:
Chor Mor 04-004/2554
"The House of Sweet Smelling Herbs"
TREATMENTS. How to book a treatment & how to get here.
Among other services, we offer Thai Traditional Massage and Herbal Steam Baths in a small village 9 kms southwest of Chiang Mai. It's better to phone ahead as we have only a few therapists -- tel. 053.817.362 or 081.885.1429. It takes 15-20 minutes to get here by motorcycle, car, tuk tuk or song taew -- click here for a map in Thai and English which you can print out for any driver.
A Full Massage takes about two hours and costs 600 baht -- a Foot Massage is 300 baht and takes about one hour. Either can be combined with a Herbal Steam Bath (200 baht) which can take up to an hour and includes dips in our cooling pool along with home-grown herb tea. A Full Massage with Herbal Compresses takes about 3 hours and costs 900 baht.
If you think you might benefit from a special Therapeutic Massage (1000 baht) or Womb-lifting (1300 baht) you need to discuss your condition with our director, Maw Hom, who can suggest a specific course of treatment and therapist to work with you. Indeed, you may come just for a consultation -- there is no charge for that.
GENERAL INTRODUCTION. You can click on what interests you below.
We're a Traditional Thai Massage School and Herbal Medicine Centre as well as a sort of Thai village inn with Live-in Accommodations for both students and guests. Our school offers live-in Traditional Thai Massage Training Courses at all levels, from novice to professional, from one-on-one intensives to a maximum of 8 students, and serious amateurs are welcome to participate as well. We also offer various courses on Herbs and Herbal Therapies -- if you don't find what you want on our Training Page or Calendar, do ask us. And if you're a guest just come and stay for as long as you like.
Our Director is licensed by the Thai Ministry of Public Health and our Certificates recognized by The Thai Ministry of Education. In addition, we host Groups, Conferences and Seminars (up to 20 participants) for those who want to come here with their own teachers and/or special interests--from yurts to yours truly and yoga. Long Stay is possible as well --we're not right for everyone but very right for some, and have had guests in full or partial Retreat for up to 6 months--writers, thinkers, bodies and minds in recovery, lives being rebuilt. Finally, this is the home of the poet, Christopher Woodman, and we welcome writers, artists, musicians and indeed anyone who is troubled by the muse!
We are honored to have been selected by the Tourist Authority of Thailand for their 2014 CREATIVE TOURISM initiative. We very much support the concept as we've always had difficulty explaining who we are. We're not a 'Resort Hotel,' not a 'Guesthouse,' not a 'Spa,' not even a 'School' in the Western sense. "We're none of the above," we always end up by saying, "We're just Thai!"
You can CLICK HERE to see the TAT Brochure which will be released in English as well in due course.
DATES:
We will be Closed during the Songkarn Festival from April 10th to the 20th so that everybody can go home and wash their parents.
There is still room in the 80 Hour Thai Massage Course from April 21st to May 3rd, 2014. The 80 Hour Course is suitable for students at all levels who want to perfect the pure, two hour Thai Massage: legs, arms, side, prone and sitting positions -- and, of course, technique, technique, technique.
Baan Hom Samunphrai will be closed from May 4th to May 11th to accommodate a special workshop in French, Le Village Thaï du Bien Etre.
There will be a small 6 day Womblifting & Herbal Therapies Workshop from May 15th to the 21st, 2014. If you are interested please get in touch with us immediately and Homprang will tailor it to your specific interests.
There will be a 150 Hour Thai Therapeutic Massage Course from June 2nd to the 26th, 2014. The course includes the work on the legs, arms, side, prone and sitting positions of the regular Thai Traditional Massage but adds on a detailed study of the acupressure points, sen lines, and abdominal work which are involved in healing. This course culminates in a written exam on the acupressure work.
Our Calendar Page lists all our Courses and Workshops to January 2015.
There is always a degree of flexibility in Homprang's work, and you should make clear to her your interests from the start. To understand better how she organizes her Traditional Medicine workshops you can click here.
For notes on how to enroll in a course click here.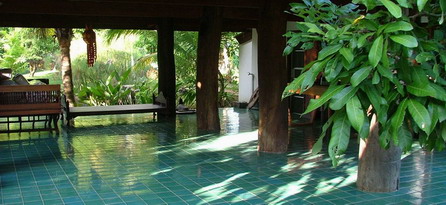 All our therapies and services are as simple as this open floor with its hand-glazed tiles.
Baan Hom Samunphrai is the home of Maw Samunphrai ("Herbal Medicine Doctor") Homprang Chaleekanha, 54, a specialist in Traditional Thai Massage (Nuad Boran) and Thai Yoga (Rasidaton) who also practices Thai Therapeutic Massage, Midwifery and Herbal Medicine.'Maw Hom,' as she is called, grew up in a small village on the Burmese border with no road or electricity, the only 'doctor' being her rice-farming grandmother who doubled as the local mid­wife and herbalist. Maw Hom is now not only licensed by the Thai Ministry of Public Health as a Traditional Doctor but as a Herbal Pharmacologist, a Traditional Midwife, and a Massage Teacher, and her school is approved by the Ministry of Education. She has also travelled widely in Europe and North America, and is fluent in English as well as Thai, a rare facility among genuine traditional healers.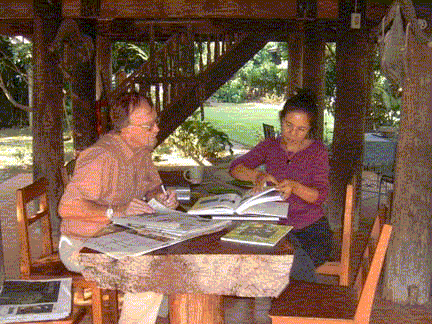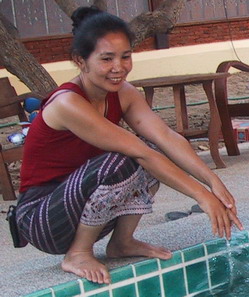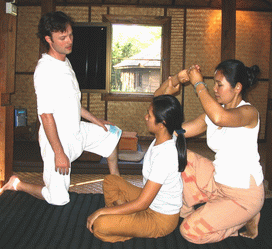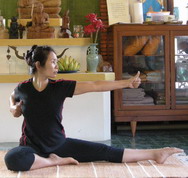 Maw Hom comparing notes with a Canadian Botanist; enjoying her friends by the pool; working with two professional colleagues,
one Thai, one English; leading the Rasidaton (Thai Yoga) at 7am.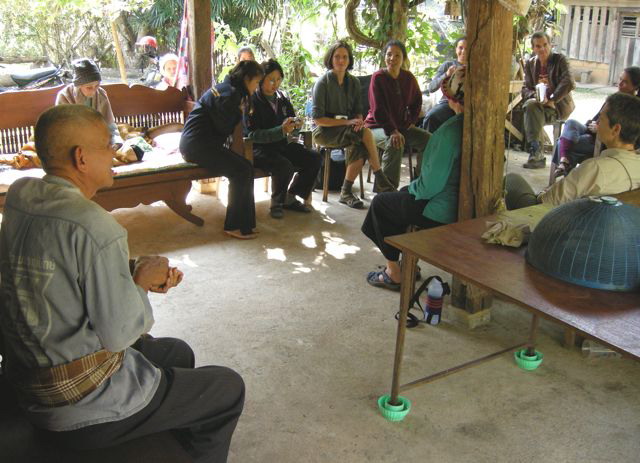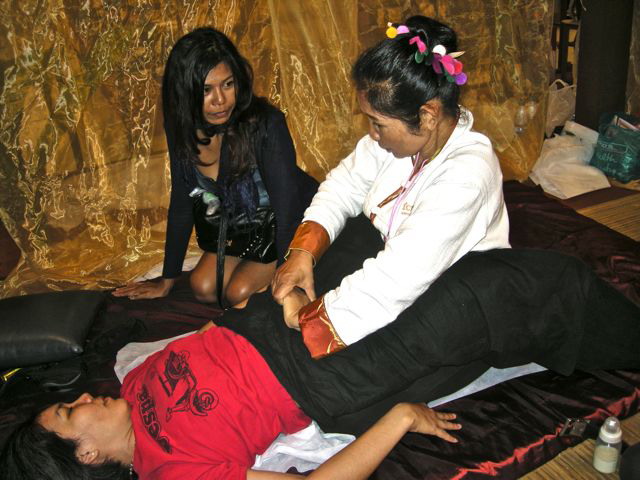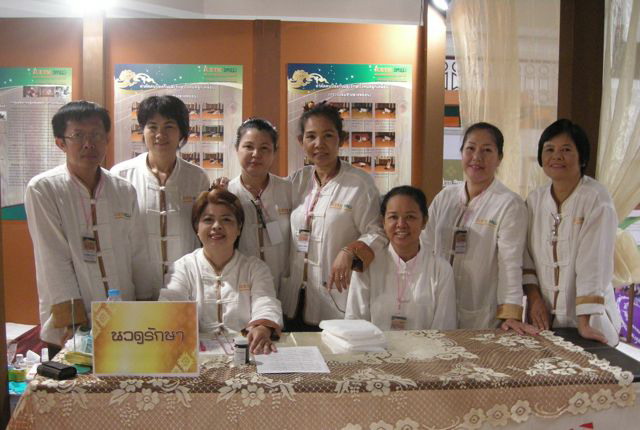 Introducing her students to Acharn Suwan, a Buddhist philosopher & herbalist, at his garden retreat in Chiang Dao; demonstrating
'Womb-lifting' at an International Health Exhibition; with her colleagues at The Association of Thai Traditional Healers, Chiang Mai.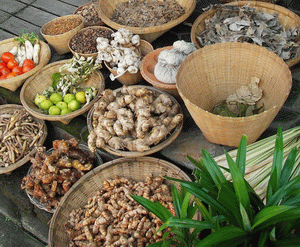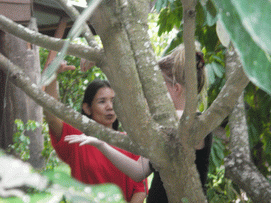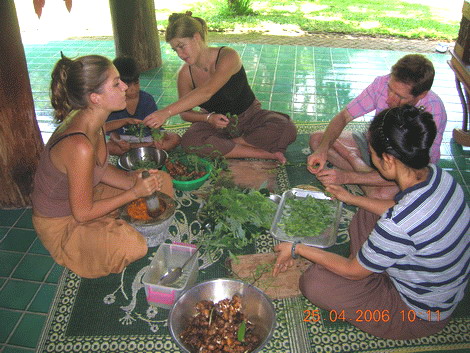 All the above roots, stems, leaves, flowers and fruit have medicinal value, and Maw Hom will show you them if not in her own herb
garden then in her community or earth market. Herbal preparations are an important dimension in all her training courses.
For an intimate glimpse into the Baan Hom Samunphrai experience, try this!
Just as he was leaving Baan Hom a few days ago, a guest called Kundan Ewan handed Christopher a colorful little book called My Friend Nasruddin. Well, we all know and love Nasruddin, and we thought -- "How kind and uncomplicated of our new friend, Kundan Ewan -- a little children's book to keep us safe and probably a bit more secure in the saddle."
Well, a few hours later Christopher pulled the book out of his pocket and started reading, and what a shock. The book was, of course, written by Kundan Ewan himself, and the Nasruddin tales in it were all Kundan Ewan's very own. And everybody at Baan Hom is now reading his stories voraciously and doing all sorts of crazy little things as if they were saints. And Christopher says that he himself, far from being a bit more secure in the saddle, is now wild with wisdom and couldn't care less!
You can click on try this above to join The Baan Hom Samunphrai Kundan Club