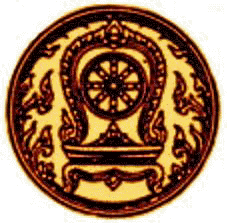 Under the control of the
Thai Ministry of Education
Chor Mor 04-004/2554
CLICK BELOW FOR
MORE PAGES


Thai Language Page
Credentials & Licenses


Address:
Baan Hom Samunphrai
93/2a Moo 12
Tawangtan, Saraphi,
Chiang Mai 50140,
THAILAND
tel. 053-817-362 (English)
tel. 053-817-356 (Thai)
fax. 053-817-362
tel. 081.885.1429
(Maw Hom direct)
e-mail: baanhom@homprang.com



Thai Language Page
Credentials & Licenses

MEMBER OF
The Association of Thai Tradi-
tional Healers (Chiang Mai)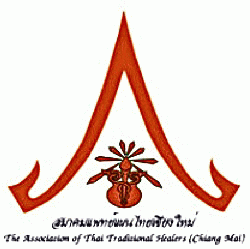 สมาคมแพทย์แผนไทยเชียงใหม่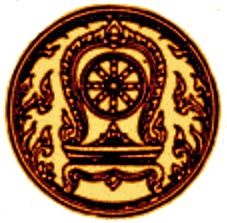 Under the control of the Thai
Ministry of Education:
Chor Mor 04-004/2554
"The House of Sweet Smelling Herbs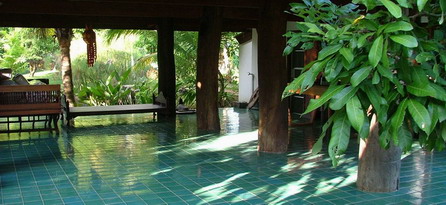 All our therapies and services are as simple as this open floor with its hand-glazed tiles.
Baan Hom Samunphrai is the home of Maw Samunphrai ("Herbal Medicine Doctor") Homprang Chaleekanha, 54, a specialist in Traditional Thai Massage (Nuad Boran) and Thai Yoga (Rasidaton) who also practices Thai Therapeutic Massage, Midwifery and Herbal Medicine.'Maw Hom,' as she is called, grew up in a small village on the Burmese border with no road or electricity, the only 'doctor' being her rice-farming grandmother who doubled as the local mid­wife and herbalist. Maw Hom is now not only licensed by the Thai Ministry of Public Health as a Traditional Doctor but as a Herbal Pharmacologist, a Traditional Midwife, and a Massage Teacher, and her school is approved by the Ministry of Education. She has also travelled widely in Europe and North America, and is fluent in English as well as Thai, a rare facility among genuine traditional healers.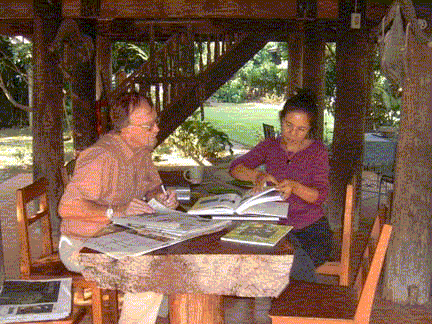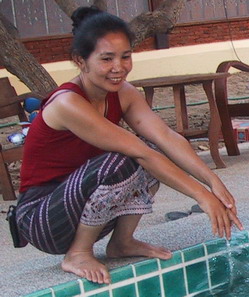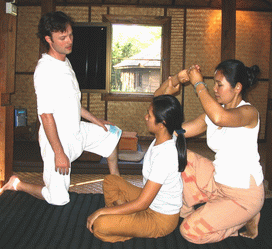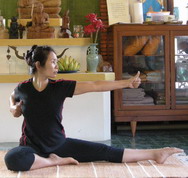 Maw Hom comparing notes with a Canadian Botanist; enjoying her friends by the pool; working with two professional colleagues,
one Thai, one English; leading the Rasidaton (Thai Yoga) at 7am.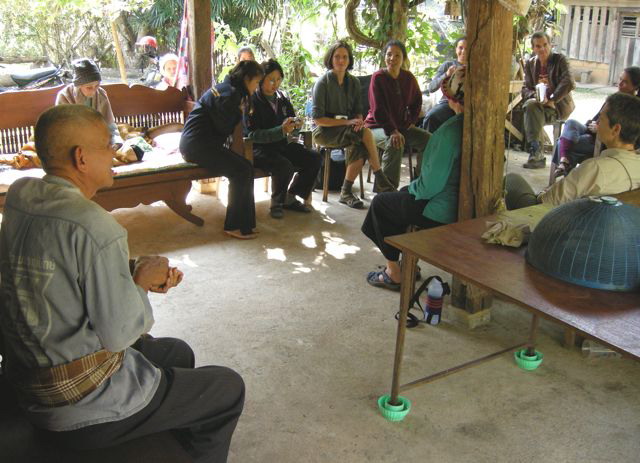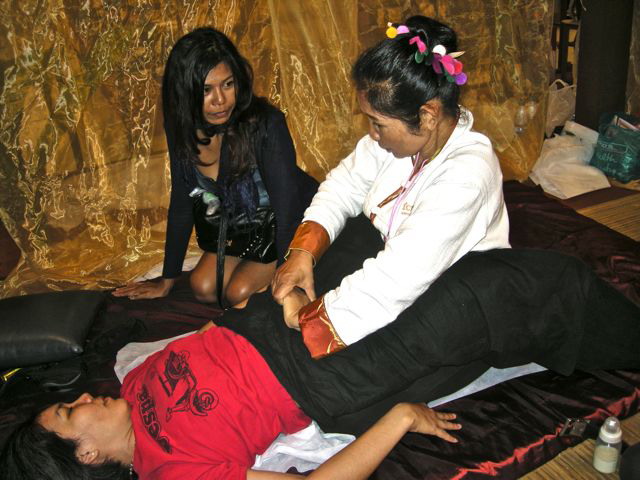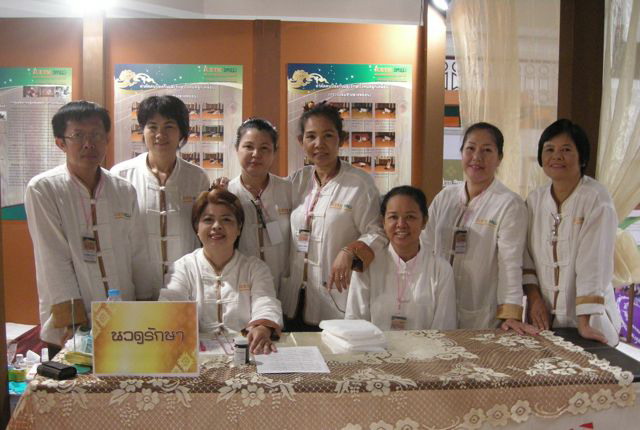 Introducing her students to Acharn Suwan, a Buddhist philosopher & herbalist, at his garden retreat in Chiang Dao; demonstrating
'Womb-lifting' at an International Health Exhibition; with her colleagues at The Association of Thai Traditional Healers, Chiang Mai.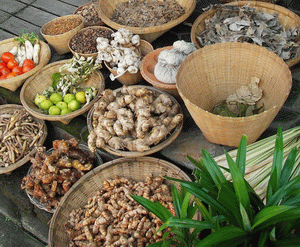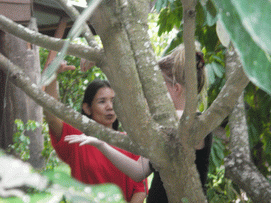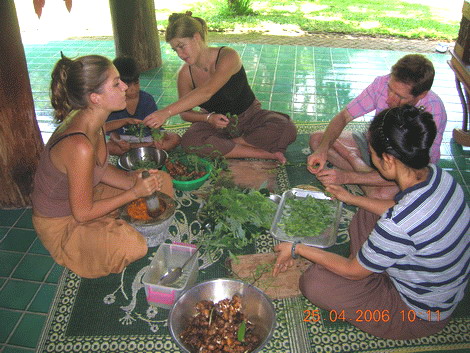 All the above roots, stems, leaves, flowers and fruit have medicinal value, and Maw Hom will show you them if not in her own herb
garden then in her community or earth market. Herbal preparations are an important dimension in all her training courses.