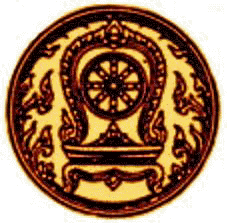 Under the control of the
Thai Ministry of Education
Chor Mor 04-004/2554
CLICK BELOW FOR
MORE PAGES


Thai Language Page
Credentials & Licenses


Address:
Baan Hom Samunphrai
93/2a Moo 12
Tawangtan, Saraphi,
Chiang Mai 50140,
THAILAND
tel. 053-817-362
053-124-164
tel. 081.885.1429
(Homprang direct)
e-mail: baanhom@homprang.com



Thai Language Page
Credentials & Licenses


Address:
Baan Hom Samunphrai
93/2a Moo 12
Tawangtan, Saraphi,
Chiang Mai 50140,
THAILAND
tel. 053-817-362
053-124-164
tel. 081.885.1429
(Homprang direct)
e-mail: baanhom@homprang.com


Thai Language Page
Credentials & Licenses


Address:
Baan Hom Samunphrai
93/2a Moo 12
Tawangtan, Saraphi,
Chiang Mai 50140,
THAILAND
tel. 053-817-362
053-124-164
tel. 081.885.1429
(Homprang direct)
e-mail: baanhom@homprang.com


Thai Language Page
Credentials & Licenses


Address:
Baan Hom Samunphrai
93/2a Moo 12
Tawangtan, Saraphi,
Chiang Mai 50140,
THAILAND
tel. 053-817-362
053-124-164
tel. 081.885.1429
(Homprang direct)
e-mail: baanhom@homprang.com
MEMBER OF
The Association of Thai Tradi-
tional Healers (Chiang Mai)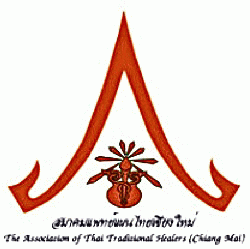 สมาคมแพทย์แผนไทยเชียงใหม่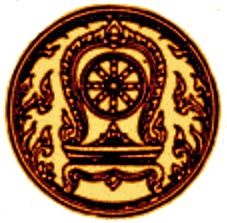 Under the control of the Thai
Ministry of Education:
Chor Mor 04-004/2554
"The House of Sweet Smelling Herbs"
GENERAL INTRODUCTION. You can click on what interests you below.
We're a Traditional Thai Massage School and Herbal Medicine Centre as well as a sort of Thai village inn with Live-in Accommodations for both students and guests. Our school offers live-in Traditional Thai Massage Training Courses at all levels from novice to professional with classes limited to a maximum of 12. We also welcome the growing number who are interested in alternative medicine in general, but we offer complete courses only, not just brief introductions. On the other hand, we do offer short courses on Herbs, Herbal Therapies, Womblifting, Abdominal Massage and Foot Reflexology-- if you don't find what you want on our Training Page or Calendar, do ask us. And if you're a guest, just come and stay for as long as you like -- you can sit in this actual chair on the porch upstairs in your house.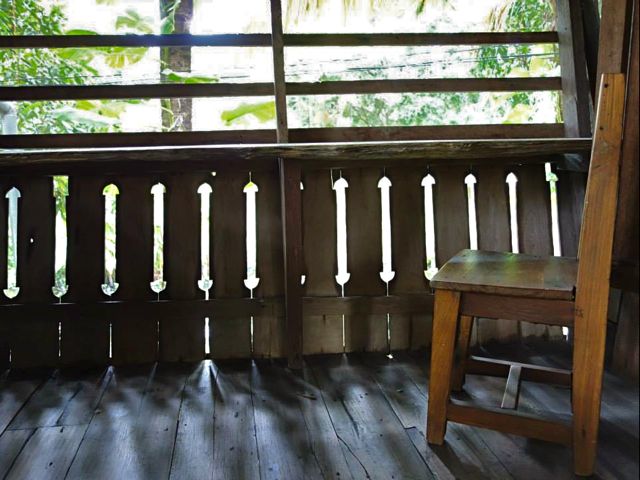 Our Director, the well-known teacher, Homprang Chaleekanha, is licensed as a Traditional Doctor, Herbal Pharmacologist, and Midwife by the Thai Ministry of Public Health, and our Certificates recognized by The Thai Ministry of Education. In addition, we host Groups, Conferences and Seminars (up to 20 participants) for those who want to come here with their own teachers and/or special interests--from yurts to yours truly and yoga. Long Stay is possible as well --we're not right for everyone but very right for some, and have had guests in full or partial Retreat for up to 6 months--writers, thinkers, bodies and minds in recovery, lives being rebuilt. Finally, this is also the home of the poet, Christopher Woodman, and we welcome writers, artists, musicians and indeed anyone who is troubled by the muse, or whatever you call that thing buzzing around in your bonnet.
HOW TO GET HERE: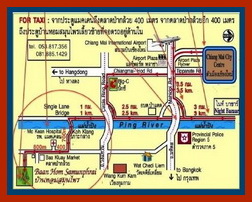 You can print out our Map in Thai and English to get here. It takes 15-20 minutes from the Chiang Mai city centre in a tuk tuk (3 wheeler), song taew (red pick-up truck taxi) or blue & yellow passenger-car taxi -- they all cost about the same. Our phone numbers are all there so when the driver gets lost he can phone us.
There are more maps and information on our Where We Are page.
OUR TREATMENTS:
Among other services, we offer Thai Traditional Massage and Herbal Steam Baths in a small village 9 kms southwest of Chiang Mai. It's better to phone ahead as we have only a few therapists -- 081.885.1429 goes straight to Homprang who still makes all the bookings.
A Full Massage takes about two hours and costs 800 baht -- a Foot Massage is 400 baht and takes about one hour. Either can be combined with a Herbal Steam Bath (200 baht) which can take up to an hour and includes dips in our cooling pool along with home-grown herb tea.
If you think you might benefit from a special Therapeutic Massage (1300 baht), Therapeutic Massage with Herbal Compresses (1600 baht), or Womb-lifting (1600 baht), you can discuss your condition with Homprang. Indeed, you may come just for an informal talk about your condition with her -- there is no charge for that.
(You can click here for a list of our Treatments and Charges.)


You will walk by the moss-covered waterpot under our Bo Tree as you enter.
ACCOMMODATIONS:
Beside students and their partners, our guests include individuals of all ages, couples and whole families who come to us for a variety of reasons: the beauty of the place, the good company around our big table, the herbal steam baths, massages and other therapies, and of course the opportunity to relax, catch up, recover, or get on with some personal project. There are no coffee shops, restaurants, bars or even 7/11s around us, so you can't just walk out our door for urban refreshment. On the other hand, we have rice fields, the river, small local temples and earth-markets everywhere, and very likely you will be the only foreigner wherever you go, on foot or by bicycle. It's rough, simple, and there's an awful lot of litter, but it's also somehow more than just there, and much more than beautiful.
You can find out more about what it's like here in "Where We Are."
You can go to "Accommodations" for a description of our houses, and here for our Rates.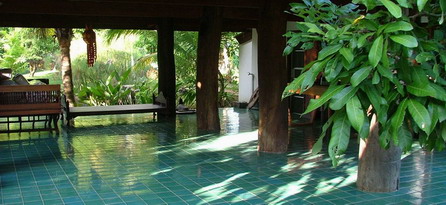 Baan Uii Dee with its hand-made green tiles -- always cool and fresh under bare feet (no shoes are worn on any of our floors). You can see how the floor is used in the various photos of students preparing herbs for herbal compresses and steam baths in the subsequent pages.
CURRENT MASSAGE COURSES: (click on the titles for more information)
1.) March 6th to 30th, 2017. 150hr SPECIAL THERAPEUTIC MASSAGE COURSE
Open only to advanced students and professionals who have already studied with Homprang, the work focuses on the acupressure points and sen lines used to treat specific conditions: stroke damage, frozen limbs, migraine, intractable low back pain, numbness. Abdominal massage is explored in much greater depth, and the 'Royal Style' is introduced as an aid in the the long, slow rehabilitation-type Therapeutic Massage that is so effective at healing. (In progress.)
2.) April 3rd to 6th, 2017. 35hr FOOT REFLEXOLOGY WORKSHOP (Limited places.)
CLOSED FOR SONGKARN, April 10th to 20th, 2017
3.) May 1st to 13th, 2017. 80hr THAI TRADITIONAL MASSAGE COURSE
This course concentrates on the classic Thai Massage: legs, arms, side, prone and sitting positions. Because technique with fluency is the focus, the stomach, face, and head are not included. The modern tendency is to focus on the harder maneuvers at the expense of the simple grace, touch and flow of the whole, massage, yet the latter is far more difficult to acquire than any of the parts, and more important.
Hardworking beginners are introduced to the full Thai Massage 'set' in this course, while advanced students can improve their technique, refine their touch, and learn how to look after both themselves and their clients even better. (Limited places.)
For a complete list of our Courses, Events, Seminars and Workshops up to July 2017, please visit our CALENDAR PAGE.
THAI MASSAGE COURSES in the Autumn, 2017
(click on the titles for more information)
1.) Sept.11th to Oct, 5th, 2017. 150hr COMPLETE THAI MASSAGE COURSE (Open)
2.) Oct. 17th to 29th, 2017. 80hr 'TECHNIQUE' for ADVANCED STUDENTS &
PROFESSIONALS (Open)
3.) Nov 20th to Dec 14th, 2017. 150 Hour SPECIAL THERAPEUTIC COURSE
(This course is for ex-students only) (Limited places.)
NOTE: We get many enquiries about the new massage treatments for serious problems being developed by Homprang and her colleagues in Chang Mai. To help those therapists who have not yet had a chance to work with her, which is a requirement for the Special Therapeutic course, Homprang is offering a new 80 Hour 'TECHNIQUE' COURSE for Advanced Students & Professionals from October 17th to 29th, 2017.
For those with less professional experience, the 150 Hour Complete Thai Massage Course from Sept. 11th to Oct 5th qualifies a student for the December class as well. And for the really strong and the willing there is the possibility of taking all three courses in a row -- we have students who are doing that right now, January 9th through to the end of March, 2017. And you can do a Vipassana Retreat in between (you can ask us for advice on any of this).
There is more discussion of the links between the courses on our Training Page HERE.
There is also more on what Homprang says about Technique HERE.
And of course there are many other courses and events on our Calendar Page HERE .
Baan Hom Samunphrai is the home of Maw Samunphrai ("Herbal Medicine Doctor") Homprang Chaleekanha, 58, a specialist in Traditional Thai Massage (Nuad Boran) and Thai Yoga (Rasidaton) who also practices Thai Therapeutic Massage, Midwifery and Herbal Medicine. 'Maw Hom,' as she is called, grew up in a small village on the Burmese border with no road or electricity, the only 'doctor' being her rice-farming grandmother who doubled as the local mid­wife and herbalist -- there's more about her grandmother here. Maw Hom is now not only licensed by the Thai Ministry of Public Health as a Traditional Doctor but as a Herbal Pharmacologist, a Traditional Midwife, and a Massage Teacher, and her school is approved by the Thai Ministry of Education. She has also travelled widely in Europe and North America, and is fluent in English as well as Thai, a rare facility among genuine traditional healers. And finally, Homprang is very active in the local Thai community, and volunteers her time and expertise to Thai patients as well as to the growing number of Thai students coming back to their traditional medicine. And she's an inspiring leader.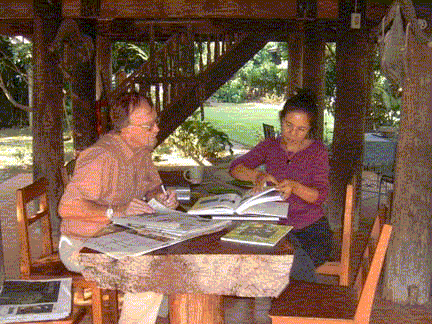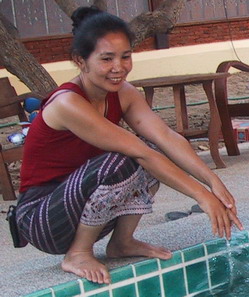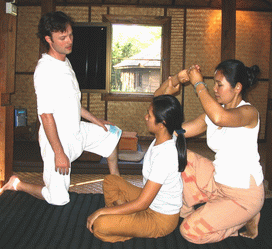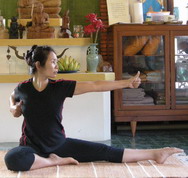 Maw Hom comparing notes with a Canadian Botanist; enjoying her friends by the pool; working with two professional colleagues, one Thai, one English; leading the Rasidaton (Thai Yoga) at 7am.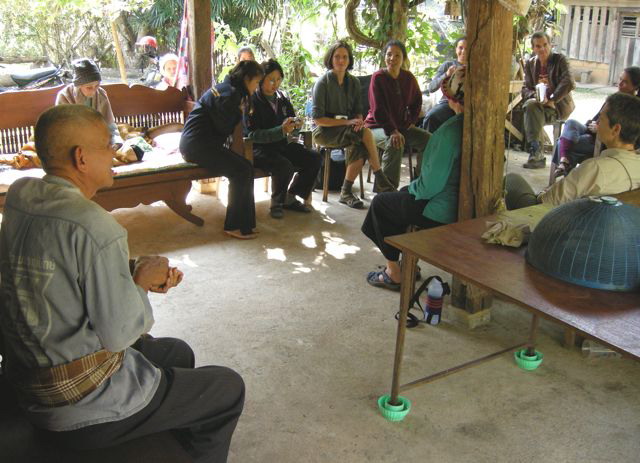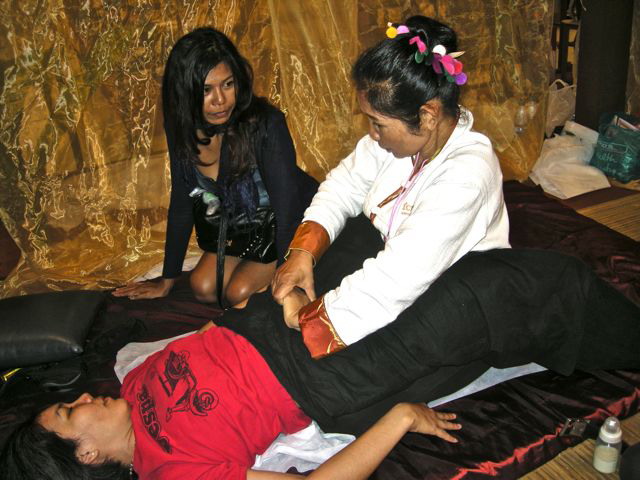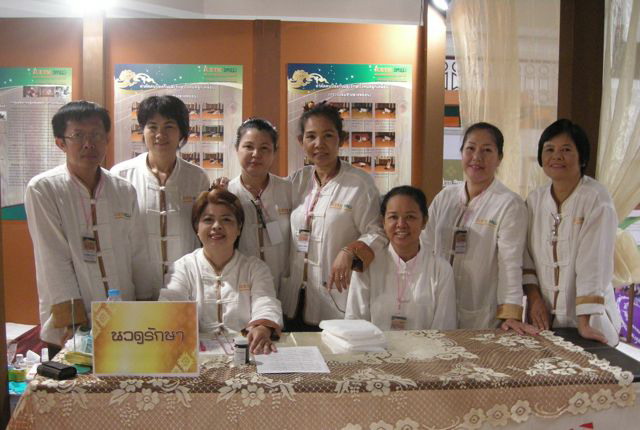 Introducing her western students to Acharn Suwan, a Buddhist philosopher & herbalist, at his simple garden retreat in Chiang Dao; demonstrating 'Womb-lifting' at an International Health Exhibition; with her colleagues at The Association of Thai Traditional Healers -- as a group they are heavily involved with teaching young Thai students old medicine!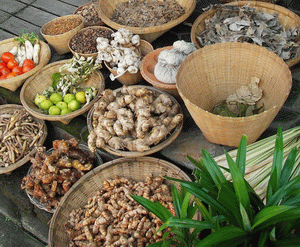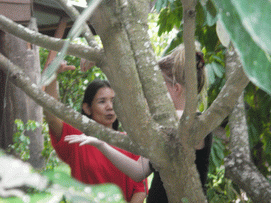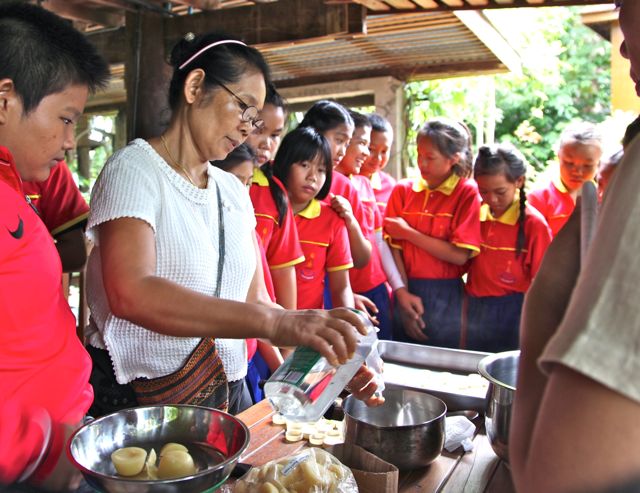 All the above roots, stems, leaves, flowers and fruit have medicinal value, and Maw Hom will show you them if not in her own herb garden then in her community or earth market. In the final photo, Maw Hom is showing Thai children from an International School how medicines were made when she was a child. The students all left with a little bottle of Tiger Balm made by themselves. This, she feels, is some of her most influential work.
HOW OTHERS SEE US -- A FEW GLIMPSES FOLLOW.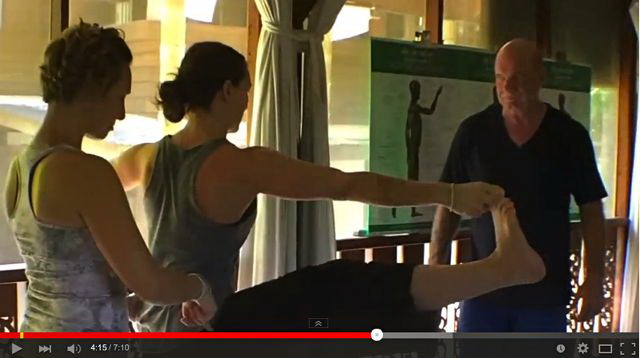 2015 MERAKI YOGA RETREAT
Here's a quick, impressionable way to explore our orchard, almost as if you were already there. This group of 10 students from Houston Texas came to Baan Hom Samunphrai just last month with their own teacher, Alexandra Merkowitsch, in what we hope will be an annual retreat.
Video by Aki Ohinata.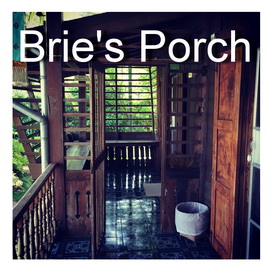 MUDITA -- an appreciation by Brie Jacobs
"Thailand for me was such a beautiful, eye opening, majestic experience. I took over 4,000 photos in an effort to preserve the impressions as much as possible for when I got back home. Its something I want to relive over and over ."
(May 12th to July 2nd, 2015)
Click on Brie's porch for an inspired visual diary.

For a glimpse thru Bulgarian eyes, have a look at what Annie Pecheva says about us here.

HOW HOMPRANG SEES HER STUDENTS & FLOWERS.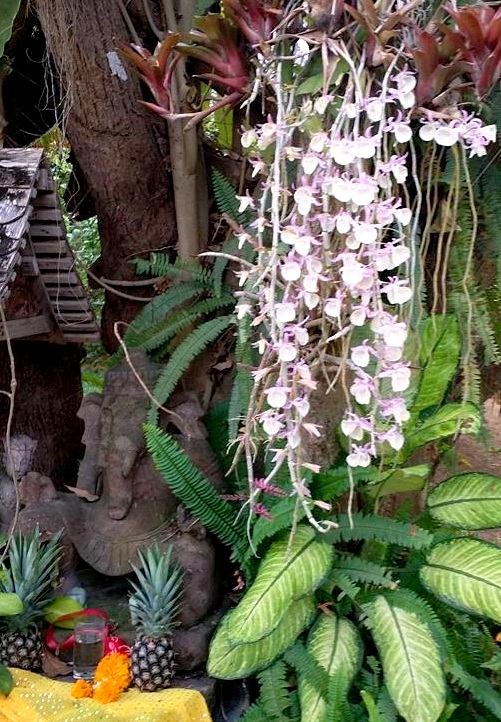 Homprang frequently takes photos in class with her smart-phone and posts them on her Facebook Page. But she loves her garden as well, and often posts what she finds particularly striking as she moves among her flowers, medicinal plants, shrubs and trees just at daybreak. In actual fact she's attending to her numerous Spirit Houses at that hour, and a very substantial following of people from all over the world accompany her as she goes.
This is the Ganesha shrine under the Bo Tree as you walk in along the wall. He has just been given a glass of clear water, a stalk of sugar cane, and two fresh pineapples, which he loves.
You can click on the photo to see Ganesha better.